By Richard Rhinehart
Bozeman, Montana, June 13, 2016 – Two adaptive veteran athletes from national non-profit World T.E.A.M. Sports will be joining Montana's seven day, 450-mile Cycle Greater Yellowstone bicycle tour this August 13-20.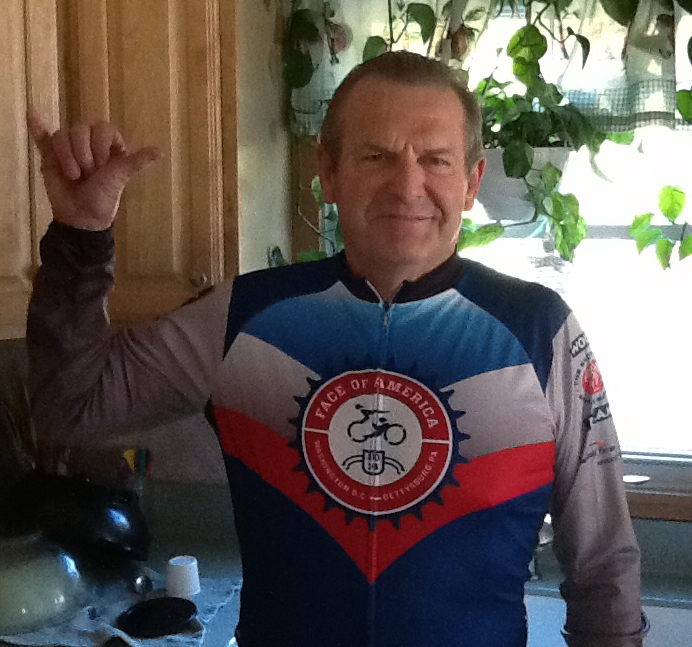 U.S. Marine Corps veteran David Santamore of Barre, Vermont will travel west more than 1,800 miles to join the anticipated 350 riders from across the country, while Army veteran Sharika Blockett will journey nearly 2,000 miles to Bozeman from her home in Tampa, Florida. Both are past participants of bicycling events with World T.E.A.M. Sports, notably the annual Face of America ride to Gettysburg each April.
A veteran of the Vietnam War, Santamore lost his left leg above the knee in 2005 when a vehicle broadsided his motorcycle. Determined to stay fit, Santamore began hiking with his prosthetic. He now cycles, skis, kayaks and plays sled hockey. A participant of three Face of America rides, World T.E.A.M. Sports' 2014 CanAm Veterans Challenge bicycle ride from Ottawa to Washington, and the organization's 2013 Adventure Team Challenge in Colorado, Santamore sees his physical activities as a positive action for him and for others. "I have been able to use my experience at sporting events to help others get involved," he explained.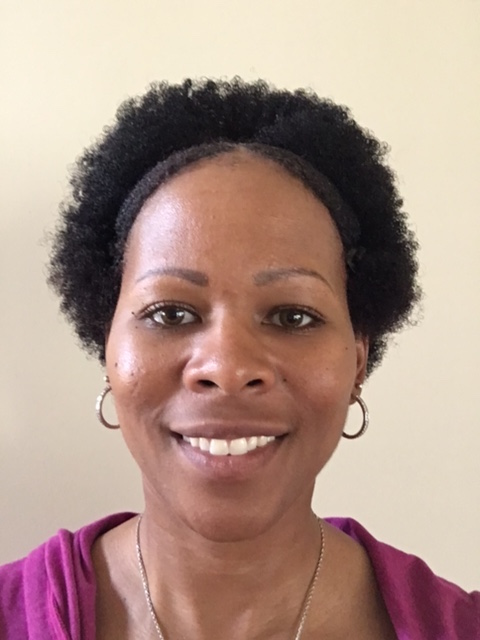 Michigan-born Blockett enlisted in the Army following high school and was injured during her service. Though living with lower back and knee injuries, Blockett has been very active in swimming and in cycling as a member of the growing Warriors 4 Life organization. In addition to the 2016 Face of America ride, she has ridden several Ride 2 Recovery events. Face of America "introduced me to some amazing veterans," she reports, as well as providing her the opportunity to join the Cycle Greater Yellowstone ride. By participating in challenging events, she explains "I learn what my limits are at that moment and set new goals to push past them."
"The feeling of accomplishment after getting to the top of a long hill or the greeting from other riders at the end of the day," is encouraging to Santamore, recognizing that events from World T.E.A.M. Sports and other organizations help him as a person. He reports that long bicycle rides "have been so inclusive and supportive, they have helped me to free some pent-up emotions from long ago."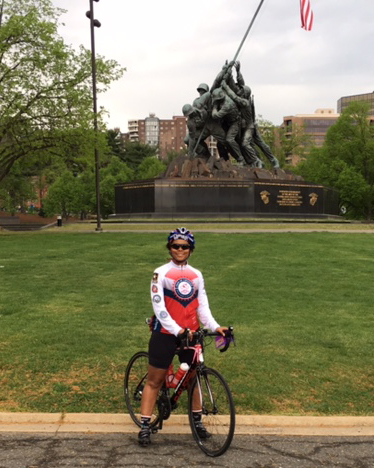 World T.E.A.M. Sports events are inclusive, bringing together athletes with disabilities with athletes who are able-bodied. Noting that the organization has encouraged him to "push my limits and live a more active and productive life," Santamore looks to rides like Cycle Greater Yellowstone as an opportunity. He has interest in cycling across the United States, perhaps with World T.E.A.M. Sports' next Sea to Shining Sea.
Blockett encourages other persons with disabilities, including veterans, to become physically active and participate in sports. "Go for it. It is worth every moment," she said. Santamore agrees. "Take that first step. Once you see success in an activity at whatever level, it will overflow into the rest of your life and make it better."
As to Cycle Greater Yellowstone, veteran Laura Root, who rode the route in 2015, reports Blockett and Santamore will find it immensely satisfying. "For veterans, there is no more powerful place of homecoming, of reconnection, of adaptation than the wilderness of the Greater Yellowstone Area. It's truly where new worlds await between mountains, trees and in ghost towns, amidst smiling faces of new friends and kindred spirits in America's most wondrous landscapes."
About Cycle Greater Yellowstone
Cycle Greater Yellowstone begins and ends in Bozeman, passing through southwestern Montana cities Ennis, Dillon, Butte, Livingston, and Whitehall. Riders also travel through breathtaking mountain and valley terrain north and west of Yellowstone National Park during the August 13-20 event. Participants ride up to 85 miles each day, and through the week, gain more than 22,000 feet of elevation. The fully-supported bicycle tour from the non-profit Greater Yellowstone Coalition offers riders the opportunity to see this exceptional terrain at an intimate pace that allows a better understanding of the wonders of the region, including the iconic wildlife that calls Montana home.