By Richard Rhinehart
Holbrook, New York, August 5, 2016 – Traveling 16 nautical miles by sea kayak along Long Island, New York's southern coast, 16 developmentally-disabled athletes teamed with 16 able-bodied coaches successfully finished national non-profit World T.E.A.M. Sports' August 2-3 Coastal Team Challenge.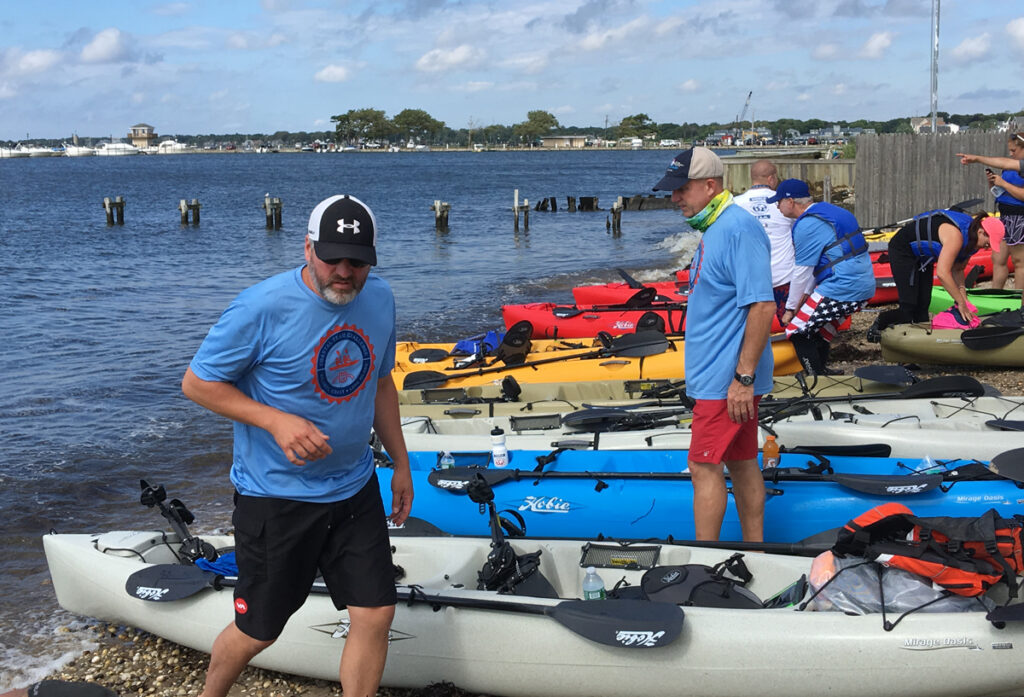 "Coastal Team Challenge was a tremendous success," said Alex Rohman of TimeCapital, who directed the event with George Taborsky. "World T.E.A.M. Sports is so fortunate to partner with Independent Group Home Living, a world-class organization. We are grateful to spend time with their athletes and receive incredible support from their organization. Bringing together people from all walks of life with a challenge like this, changes all of us for the better."
Since the first Challenge in 2014, Long Island's Independent Group Home Living Program has joined with World T.E.A.M. Sports in identifying and selecting enthusiastic adaptive athletes. Participating athletes pedaled and paddled two-person Hobie Mirage Oasis kayaks through Long Island's coastal sea lane, making land fall for rest stops and camping overnight at Smith Point. For many of these adaptive athletes, the sea kayak journey was their first water sports event.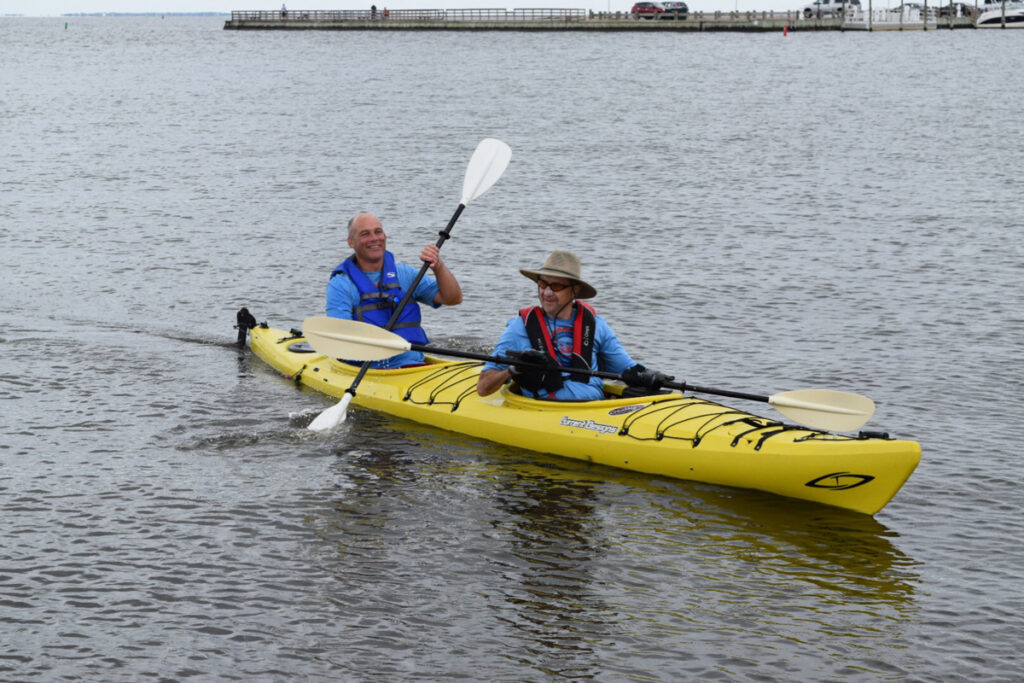 "Paddling for two days across the Great South Bay, tackling on whatever challenges encountered, and working through them together as a team, we were able to complete this two-day event," said Taborsky.
Following departure under cloudy skies, the teams enjoyed improving, sunny weather as skies cleared during their second day on water. Arriving at East Moriches on August 3, the athletes were met by friends, family and colleagues who celebrated their achievement with a gala dinner and post-event party at the Water's Edge restaurant.
Therese Martin, the Recreation Coordinator for Independent Group Home Living, reported that many athletes told her they greatly enjoyed the Challenge and excitedly looked forward to future participation. "All were excited, and that's what events like these are all about!"
Developed and managed by World T.E.A.M. Sports to encourage adaptive athletes to become active and confident in participating in challenging outdoor sporting events, the Challenge also shows able-bodied athletes and the public that disabilities should not exclude individuals from active sports. For each of the two-person teams in the Challenge, the adaptive and able-bodied athletes cooperated closely and overcame challenges during their voyage. These challenges ranged from changing tides to wakes from large, sea-going vessels to occasional unfavorable weather conditions.
Sponsored by Long Island's TimeCapital Investor Advisory Services and American Portfolios Financial Services, the Coastal Team Challenge is one of a series of challenging events hosted nationwide by World T.E.A.M. Sports. Managing sporting events for more than a quarter century, the Holbrook-based organization creates inclusive challenges from lengthy bicycle and hand cycle rides with injured military veterans in New York and Maryland, to team adventure competitions for adults and children in Colorado, North Carolina, Washington D.C. and the Catskill Mountains of New York. Past events have included a world bicycle and hand cycle ride, two climbs of Africa's Kilimanjaro, a bicycle and hand cycle ride in Vietnam among former military combatants, and two commemorative September 11 bicycle rides in 2002 and 2003 from Manhattan to the Pentagon in Virginia.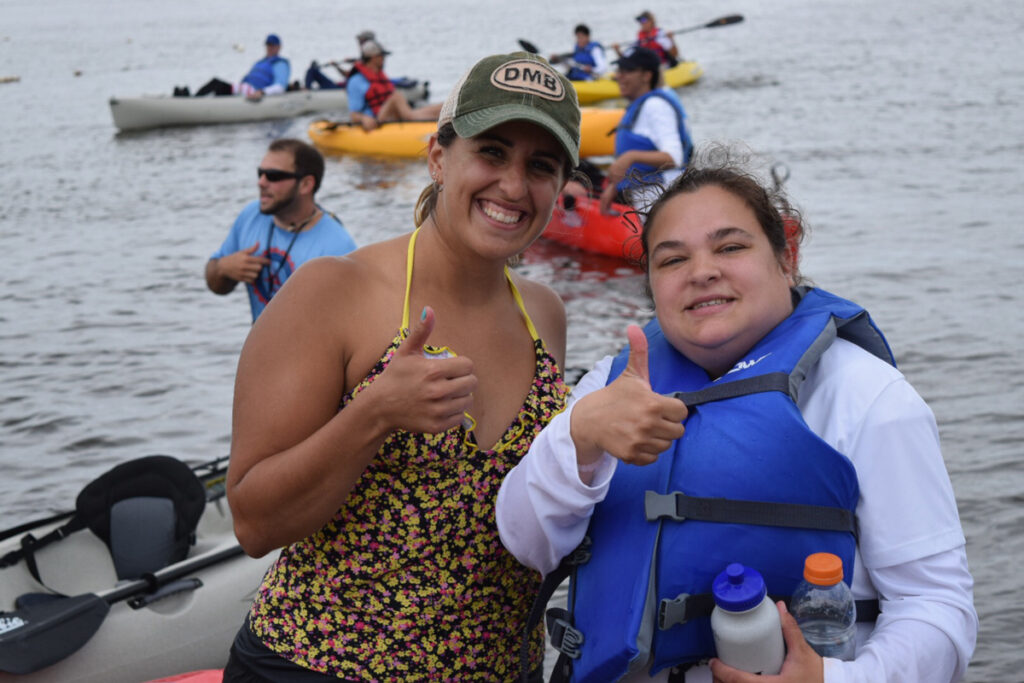 Although many nonprofit organizations manage events in honor of veterans or in support of individuals with disabilities, World T.E.A.M. Sports established in a 1987 cross-country bicycle ride that adaptive athletes prefer to participate alongside able-bodied athletes. By encouraging these athletes to work together toward a common goal, such as completing a sea kayak journey, the resulting teamwork and respect increases understanding and support.
Sponsors and partners for the 2016 Coastal Team Challenge provided valuable support for the event, from sponsorship funding to logistical support to volunteer assistance before and during the event. The success of this year's event depended on these partners.
About Independent Group Home Living Program
Independent Group Home Living Program (IGHL) is a not-for-profit agency in Eastern Long Island dedicated to the enrichment of the lives of people with intellectual disabilities. Today, IGHL operates over 50 group homes and day habilitation centers, as well as a 60,000 square foot Opportunity Center.