By Richard Rhinehart
Arlington, Virginia, January 26, 2016 – Early in the morning of April 22, a team of disabled and able-bodied military veterans and civilians from across the United States will set off from Arlington, Virginia on a personal journey of remembrance and honor. Riding bicycles, recumbent bikes and hand cycles, these riders attending World T.E.A.M. Sports' annual Face of America ride to Gettysburg will visit a selection of Washington, D.C.'s solemn memorials and pay their respects to this nation's veterans.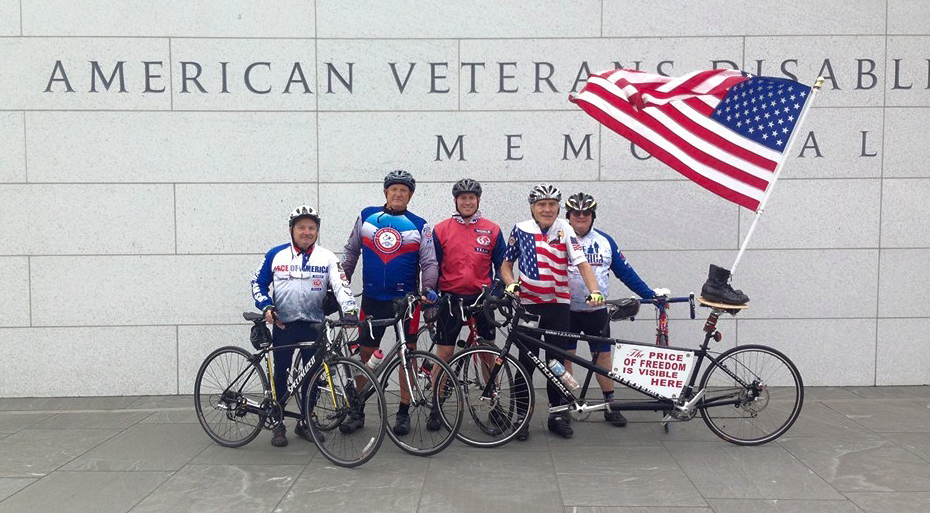 Since its start in 2011, the memorials bicycling ride has been an unofficial start to the national non-profit's Face of America weekend. Informally organized by a group of participating veterans and civilians, the morning ride visits several national memorials, including the Vietnam Veterans Memorial, the World War II Memorial, the Korean War Veterans Memorial and the American Veterans Disabled for Life Memorial.
Veteran Geoffrey Moulton of Glenside, Pennsylvania is one of the ride's coordinators. He helped begin the casual ride with a group of friends attending World T.E.A.M. Sports' 2011 Face of America. The group, including Lew Meyer of Bush Prairie, Washington and David Mowery of Gettysburg, worked together as volunteers in the ride's bike inspection room. After completing the room setup, the three decided a morning ride to the memorials would be a relaxing activity prior to the rush of registration on Friday afternoon, with hundreds of riders from across the United States arriving and checking in.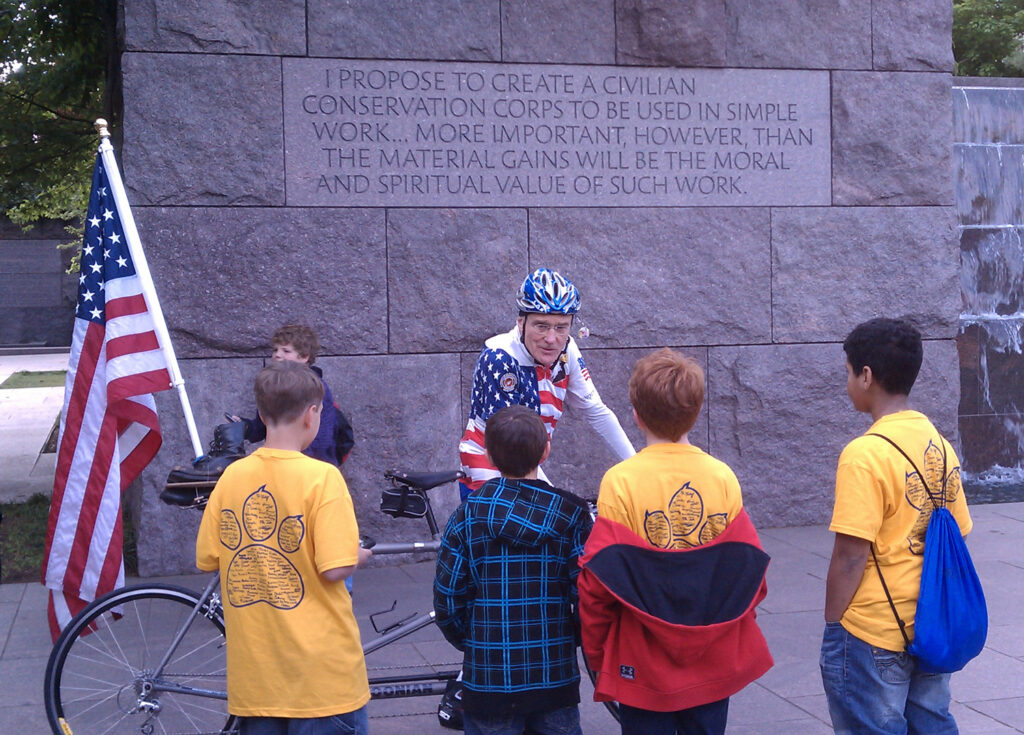 "Our goal today is as it was six years ago," explained Moulton. "To visit the memorials and pay homage to our brothers and sisters who have served and/or paid the ultimate sacrifice defending our country."
Following the first memorial ride, Moulton, Meyer and Mowery decided to open it the following year to other early Face of America arrivals. Participation is limited each year to about 25 riders, a group small enough to not disrupt visitors to these popular memorials.
"On every ride, we gain the attention of people visiting the memorials. We enable them to make a connection with the 'people behind the memorials' – those who have served. It is a great feeling to enable both young and old visitors to the memorials to make the connection with us, as it is for us to visit the memorials," said Moulton.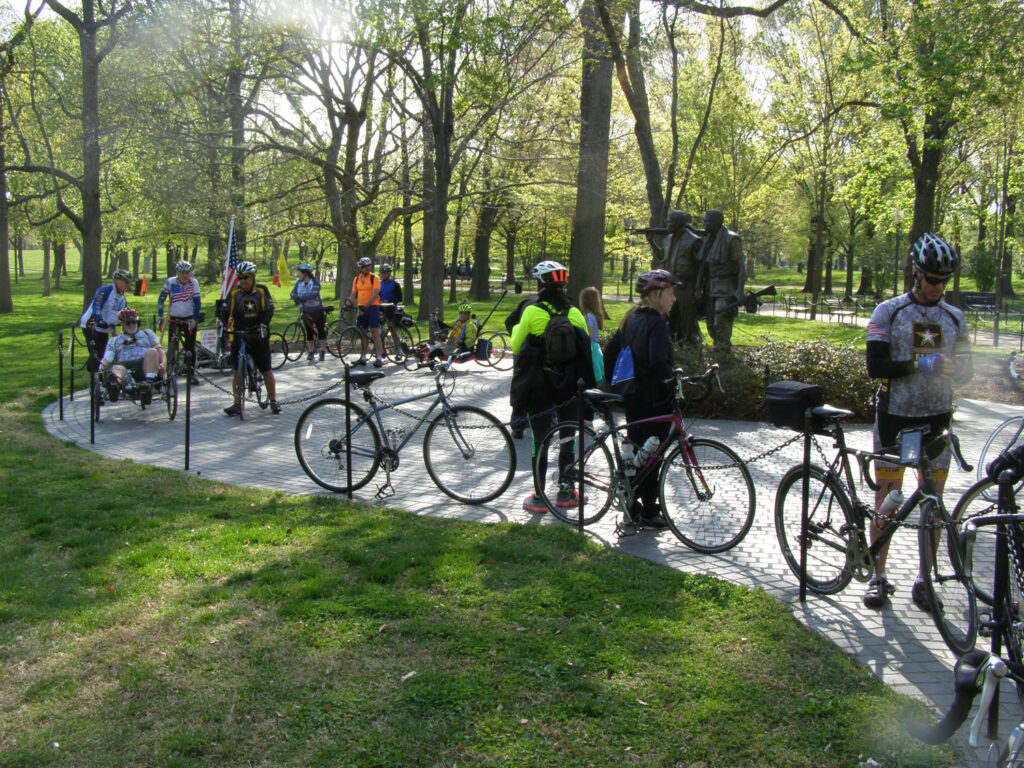 The memorials ride is not a ride for speed, but a ride to honor American military veterans and enjoy the outdoors. Usually, the riders complete the loop of fewer than 20 miles in about four hours. The distance is a warm-up for the weekend's Face of America ride of 110 miles over two days.
As a veteran with hearing loss and tinnitus, Moulton said the ride to the memorials helped him gain appreciation of the sacrifices of earlier veterans, including family members. "This past year, I did some research on an uncle who was killed in action in World War II," Moulton explained. "I found that he had been awarded both a Bronze Star and a Silver Star for two separate actions. I will have some special prayers for him when we visit the World War II Memorial."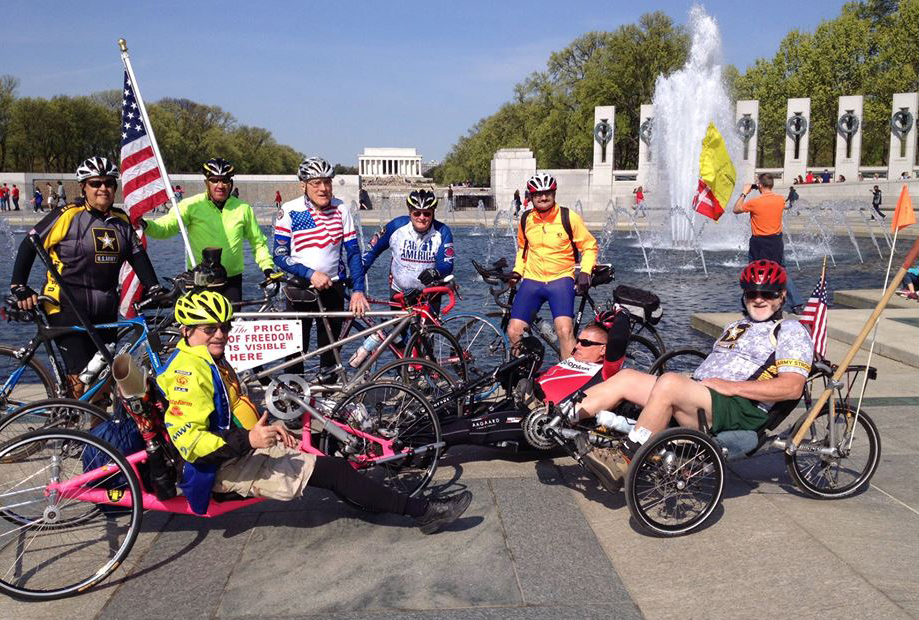 If you are a participant of Face of America and have an interest in the memorials ride, contact Geoff Moulton to reserve a position. Registration is free of charge.
About Face of America
National non-profit World T.E.A.M. Sports' annual Face of America bicycle, recumbent bike and hand cycle ride to the historic battlefields of Gettysburg, Pennsylvania is anticipated to include more than 600 riders in 2016. Of these participants, 160 disabled military veterans will ride alongside the able-bodied civilians, veterans and active-duty military. The April 22-24 ride will include two 110-mile, two-day routes from the Pentagon in Arlington, Virginia and from historic Valley Forge, Pennsylvania. The Face of America is supported through sponsorship from American Portfolios Financial Services, Booz Allen Hamilton, Benson Botsford LLC, Devens Recycling, Penske Truck Rental, Sila Solutions Group, SUBWAY of the Walter Reed National Military Medical Center, Vedder Price, and Veteran Corps of America. Additional sponsorship support is forthcoming.