By Richard Rhinehart
Chicago, Illinois, May 24, 2016 – The documentary feature of one of World T.E.A.M. Sports' most inspiring sporting events, the January, 1998 Vietnam Challenge, will be screened online for one week beginning May 27 as part of Kartemquin Films' 50th anniversary celebration. "Vietnam: Long Time Coming" documents the inclusive 16-day, 1,250-mile bicycle expedition from Hanoi to Ho Chi Minh City that brought together 70 disabled veterans from the United States and Vietnam with 20 able-bodied coaches.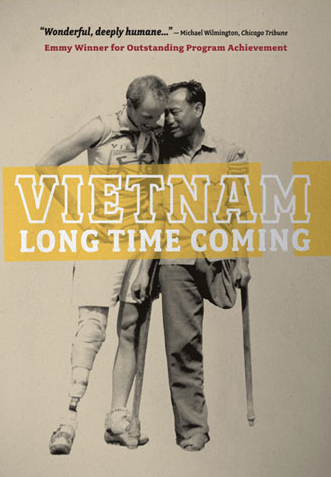 The special screening is part of a year-long anniversary celebration of the Chicago-based Kartemquin Films, creator of films such as 1995's "Hoop Dreams" about the lives of two inner-city basketball players and 2014's "Life Itself" about film critic Roger Ebert. A non-profit film producer that released its first film in 1966, Kartemquin's documentaries examine and critique society through the stories of real people. The online screenings include Kartemquin's full catalog, and often are accompanied with additional content and materials.
World T.E.A.M. Sports Advisory Board member Stephen Whisnant, the organization's executive director in 1998, recalls the excitement about working with Kartemquin. "I negotiated the film deal and I was in serious conversations with Sports Illustrated Television—which existed then," Whisnant said. "They put us in touch – or rather brought in Kartemquin Films. The company was a hot documentary group, having just garnered all the success around 'Hoop Dreams.' We had multiple meetings with the key filmmakers and struck a deal—SI Television collaborated and also assisted in helping us sell the film to NBC Sports."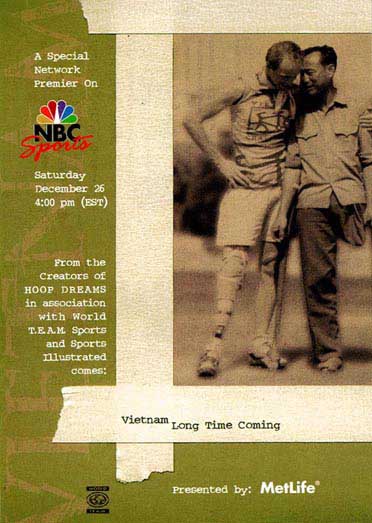 Serving as Executive Producer for the film with James Benson, World T.E.A.M. Sports' founder and Chairman, Whisnant notes the Vietnam Challenge was a big event for the organization, which creates inclusive sporting events for disabled and able-bodied athletes. "We conceived the idea of a documentary once the project took some shape and we had formalized the educational outreach program with The Asia Society. We wanted a lasting legacy of the project."
In 1998, interaction between the former adversarial federal governments was a developing relationship. Through careful and patient negotiations, the framework of the cross-country ride from north to south was determined. Finally, the expedition was approved, and World T.E.A.M. Sports began preparations to transport athletes, bicycles, hand cycles and gear to Vietnam, working with their Vietnam counterparts. "The filmmakers made trips in advance of the project and I stayed for several days with the crew, after the ride, to do some follow-up filming," recalled Whisnant. "They were marvelous to work with and I think they would say it was one of their best films ever."

The film was unveiled at the Aspen Film Festival in 1998, winning the Best Audience Prize, Whisnant remembered. "It won a number of other film festivals and the world tour was a huge success, which included screenings in Hong Kong, Hanoi and Ho Chi Minh City—we had the film subtitled in Vietnamese. It was shown on NBC in December of 1998 as a holiday special. It won an Emmy award that year for Best Sports Programming."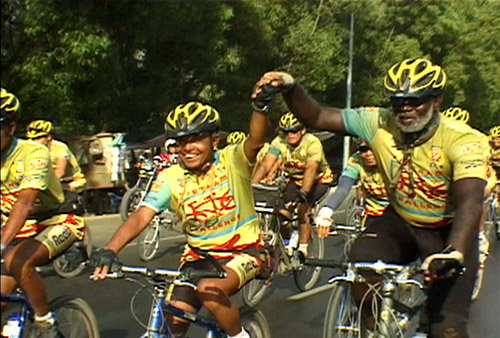 Now serving as the Founder and Managing Director at Washington's Stephen Whisnant Strategies, LLC, Whisnant noted the Kartemquin documentary helped show the public that inclusive events like the Vietnam Challenge "were more than just isolated sports events. Rather, there were stories and messages powerful to share with folks who were never on the teams. They spoke to what the mission and purpose of World T.E.A.M. Sports was all about."
About Kartemquin Films
Kartemquin is a collaborative center for documentary media makers who seek to foster a more engaged and empowered society. In 2016, Kartemquin celebrates 50 years of sparking democracy through documentary. A revered resource within the film community on issues of fair use, ethics, story and civic discourse, Kartemquin is internationally recognized for crafting quality documentaries backed by audience and community engagement strategies, and for its innovative media arts community programs. The organization has won every major critical and journalistic prize, including multiple Emmy, Peabody, duPont-Columbia and Robert F. Kennedy journalism awards, Independent Spirit, IDA, PGA and DGA awards, and an Oscar nomination. Kartemquin is a 501(c)3 not-for-profit organization based in Chicago.
For additional information regarding the Vietnam Challenge and the Kartemquin Films documentary, "Vietnam, Long Time Coming," see Legacy of World T.E.A.M. Sports' 1998 Vietnam Challenge Ride Continues (February 5, 2015).