By Richard Rhinehart
Arlington, Virginia, November 9, 2016 – Adaptive and able-bodied athletes from across North America began registration this week for nonprofit World T.E.A.M. Sports' annual Face of America bicycle and hand cycle ride. Scheduled for April 28-30, 2017, this inclusive mid-Atlantic journey concludes at the historic Civil War battlefields of Gettysburg, Pennsylvania and honors military veterans with disabilities from all service branches.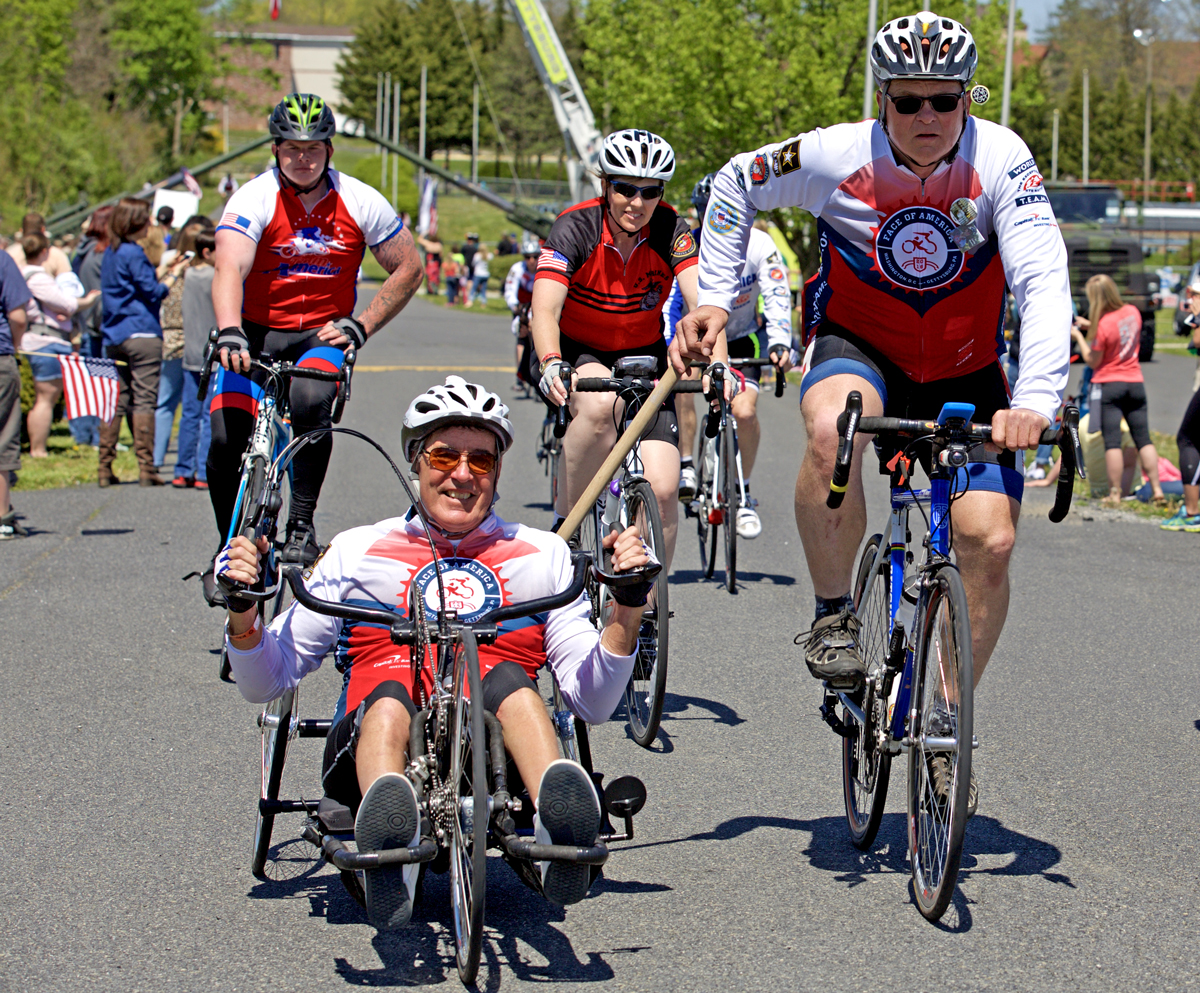 An anticipated 650 able-bodied civilians, active duty and retired military cyclists will ride alongside nearly 200 adaptive veterans in two-day routes of 110 and 120 miles. The classic route begins near the Pentagon in Arlington, Virginia, while the northern route begins at George Washington's winter encampment at Valley Forge, Pennsylvania. Both routes join together on April 30 in downtown Gettysburg, riding the last few miles as one group to an inspiring finish at the Eisenhower Hotel's Allstar Expo Complex.
The non-competitive Face of America is fully supported for participating athletes, with overnight stays in Frederick, Maryland and Lancaster, Pennsylvania. All athletes receive a commemorative jersey at on-site registration, along with a gala kick-off dinner. On Sunday at the Gettysburg conclusion, riders and volunteers enjoy together a celebratory outdoor lunch.
For participating athletes who live with disabilities ranging from loss of limb to Post Traumatic Stress to blindness, completing Face of America offers a tremendous sense of accomplishment. "Remarkable folks doing remarkable things!" said one participant of the 2016 ride. Another athlete reported "the level of difficulty makes you feel like you accomplished something."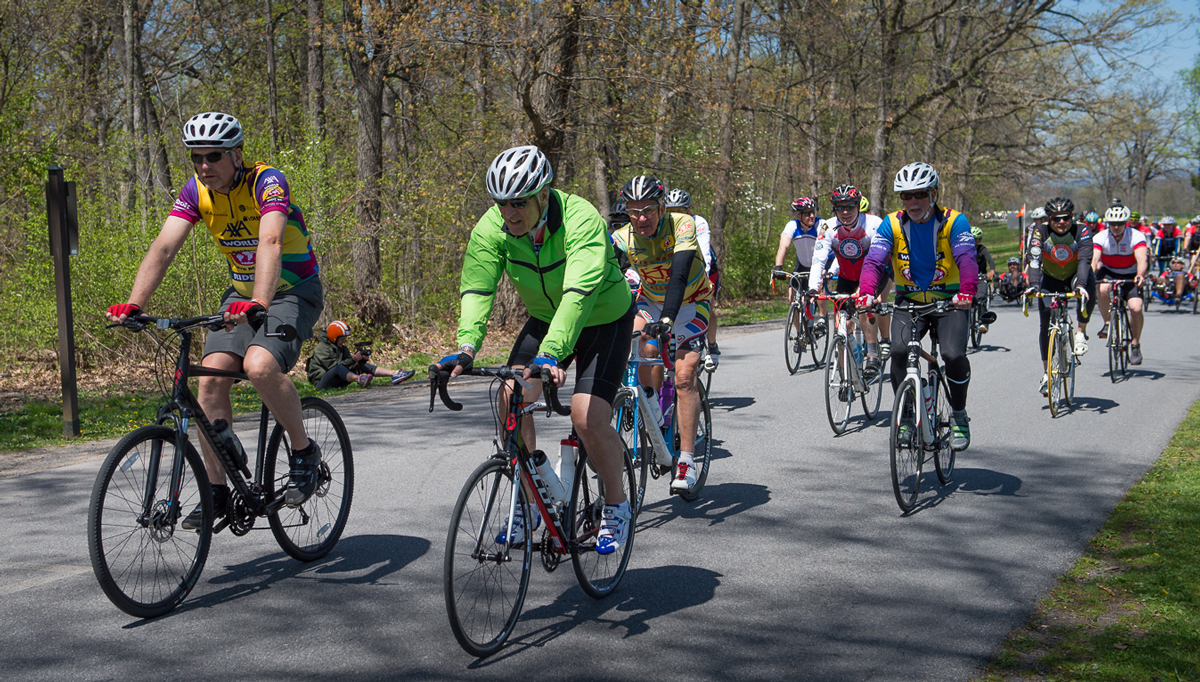 Support and participation in Face of America has increased significantly since 2006, making the ride the non-profit's most popular athletic event. At the 2016 ride, more than 130 of the 550 total participants were military veterans and civilians with disabilities from the United States, Canada, Puerto Rico, and Denmark.
Face of America first ran in 2000 as a cross-country relay with teams of disabled athletes traveling from each coast and meeting under the St. Louis Gateway Arch. In 2002 and 2003, the ride honored the victims of the September 11 attacks and traveled south from Ground Zero in New York to the Pentagon. In 2006, the Face of America was re-envisioned as an inclusive ride to honor those who have been injured or disabled while serving in the military. Over the next ten years, participation by disabled Afghanistan and Iraq war veterans has increased, growing from a few dozen in 2006 to more than 100 in 2016.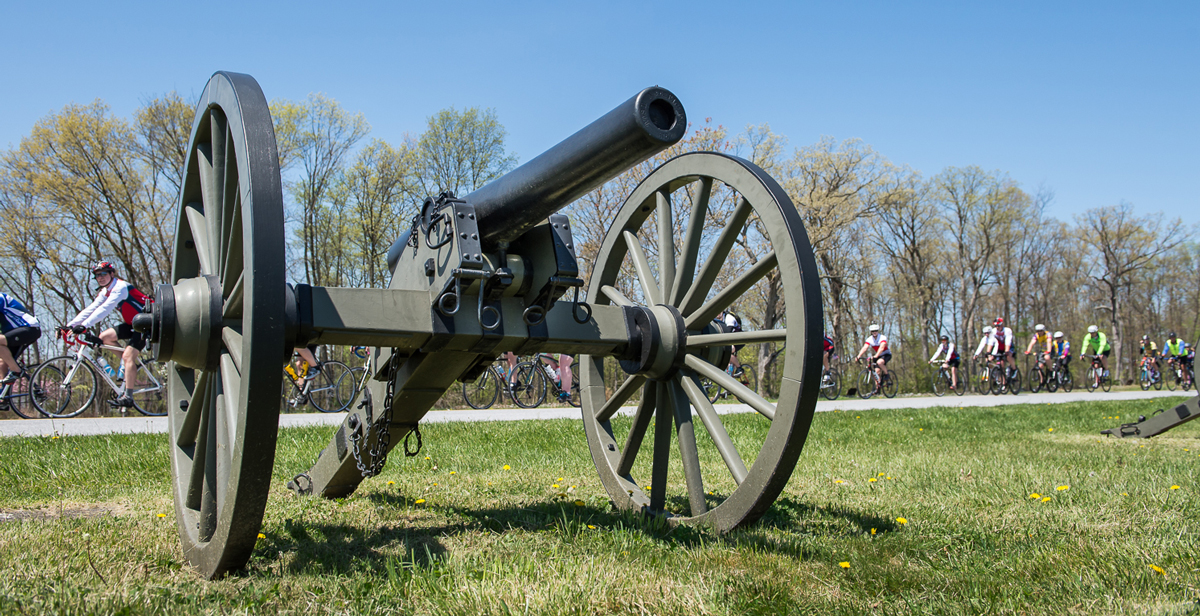 Each participating civilian, retired and active duty military rider raises funds to support the participation of the adaptive athletes from family, friends, co-workers and colleagues. Adaptive athletes receive lodging and meals at no cost with their complimentary registration. Fundraising also covers event costs, including meals, ride permits, facility rentals and event jerseys. Any remaining funds following expenses are applied to upcoming World T.E.A.M. Sports events, including Colorado's Adventure Team Challenge, New York's Coastal Team Challenge and other life-changing athletic events for disabled and able-bodied athletes.
The 2017 Face of America is supported through generous sponsorship and partnerships from several leading companies.
>> 2017 Registration and Fundraising Site
>> 2017 Adaptive Athlete Qualification Questionnaire