By Richard Rhinehart
Gettysburg, Pennsylvania, April 3, 2017 – Governor Tom Wolf today designated April 30, 2017 as Face of America Day in Pennsylvania, recognizing the exceptional adaptive military veterans who are riding national non-profit World T.E.A.M. Sports' Face of America to the historic Civil War community of Gettysburg.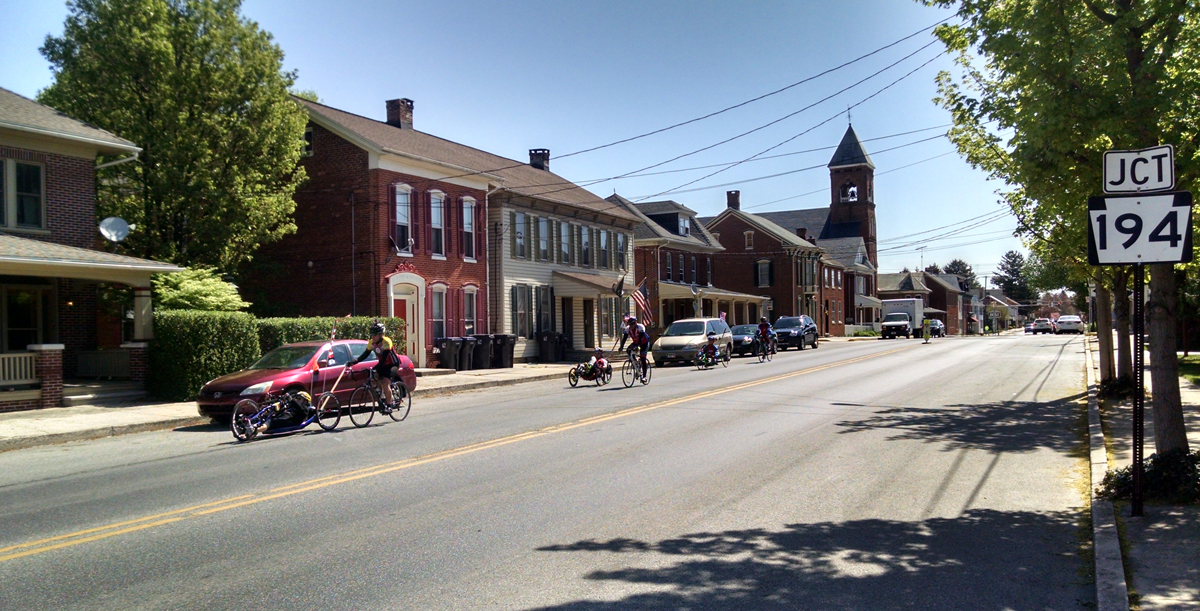 "Since the infancy of the United States, the fundamental rights of life, liberty, and the pursuit of happiness have been courageously protected by those Americans willing to serve in the armed forces," said Governor Wolf in his official proclamation. "The sacrifice and courage of veterans and their families reflect the highest ideals of the commonwealth."
In its 15th edition, World T.E.A.M. Sports' Face of America is one of the largest non-competitive bicycle and hand cycle rides in the mid-Atlantic region. More than 600 participating riders from across the United States, Puerto Rico and Canada will travel two 100-mile routes to Gettysburg, one from General George Washington's historic winter camps at Valley Forge, Pennsylvania and the other from the Pentagon in Arlington, Virginia. These two routes join together in Gettysburg to ride together the final miles through the solemn Civil War battlefields to the ride's conclusion.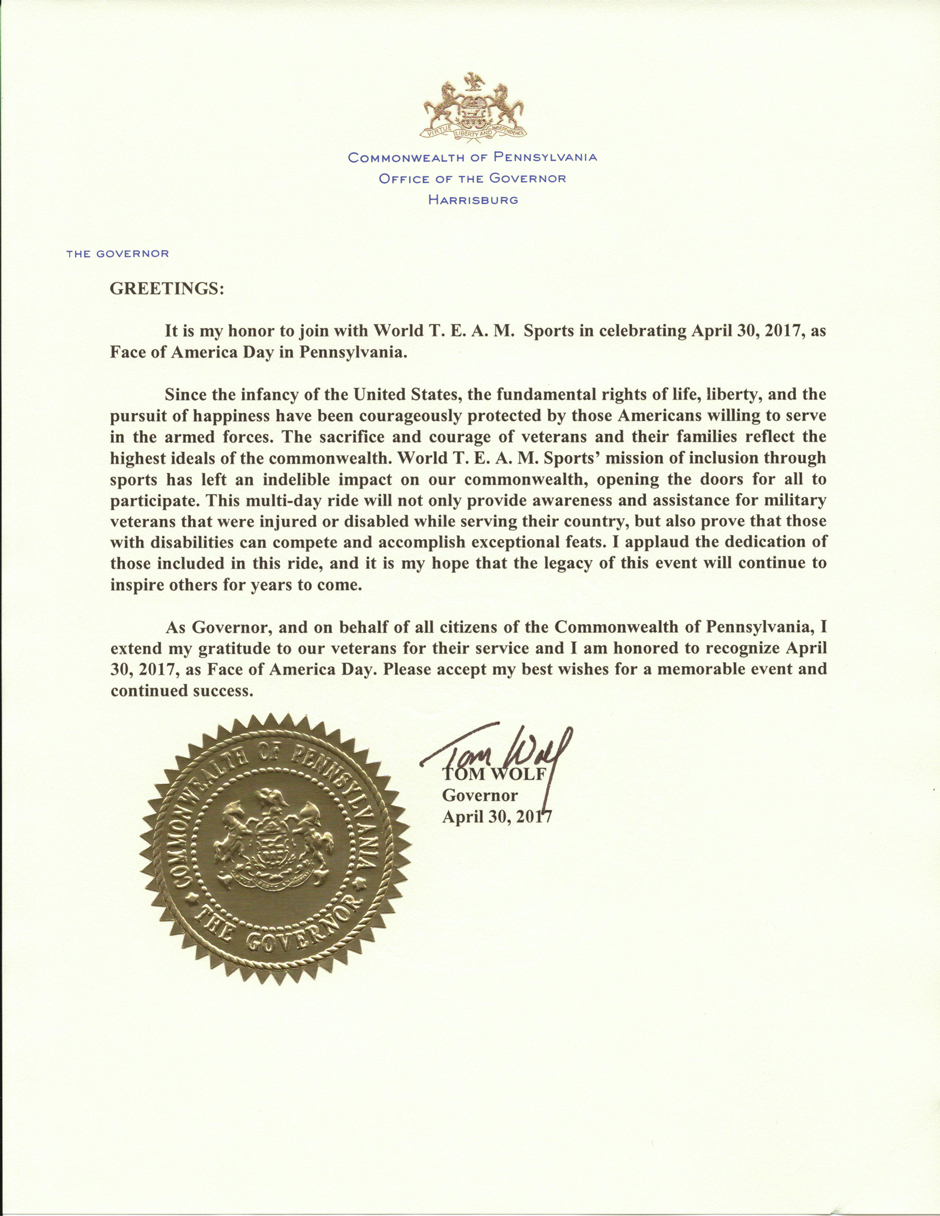 "World T.E.A.M. Sports is proud to have the Governor of Pennsylvania take the time to publicly recognize our Face of America event," said Van Brinson, the non-profit's CEO and President. "Much of the success of this event is due to the hard work and dedication of many residents of Pennsylvania and we treasure the deep ties that we have forged in the state. As we grow this event, we look forward to continuing our relationship with the state of Pennsylvania."
The inclusive nature of Face of America brings together veterans with disabilities with active-duty military, retired military and civilians. This year's ride anticipates more than 160 adaptive athletes, including veterans with amputations, paralysis, blindness, Post-Traumatic Stress, and Traumatic Brain Injuries. Face of America honors the sacrifices of these individuals in their service, and the service of other military veterans who have been injured or disabled.
"World T.E.A.M. Sports' mission of inclusion through sports has left an indelible impact on our commonwealth, opening the doors for all to participate," said Governor Wolf. "This multi-day ride will not only provide awareness and assistance for military veterans that were injured or disabled while serving their country, but also prove that those with disabilities can compete and accomplish exceptional feats. I applaud the dedication of those included in this ride, and it is my hope that the legacy of this event will continue to inspire others for years to come."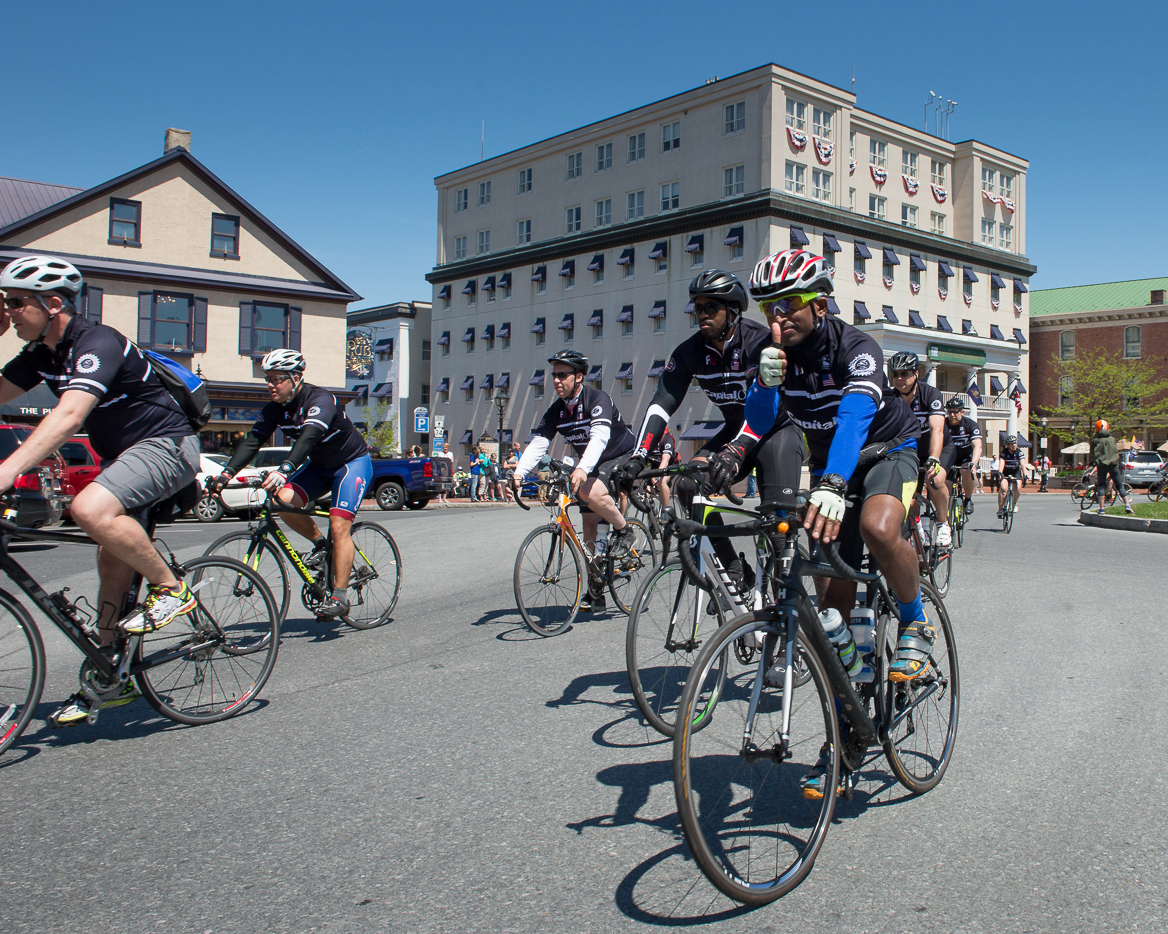 Held annually in Pennsylvania, Maryland and Virginia since 2006, Face of America began as a cross-country ride with two teams of cyclists who met beneath the St. Louis Arch in 2000. In 2002 and 2003, the ride served as the official memorial ride for the victims of the September 11 attacks upon America, following a three-day route from New York to the Pentagon.
World T.E.A.M. Sports' 2017 Face of America is presented by Capital One Bank and supported through sponsorship and partnerships from several leading companies including American Portfolios Financial Services, Benson Botsford LLC, Booz Allen Hamilton, Brioni, CYCLEBAR Columbia Pike, Dell EMC, Devens Recycling, Dunkin' Donuts, FreshBikes, ForeScout, KT Tape, Penske Truck Rental, Pershing, Rescue 22, Sila, Strive, SUBWAY of the Walter Reed National Military Center, Three Wire Systems, Tingley Rubber Products, Tom's Creek United Methodist Church, TORRE Consulting Services, Vedder Price and Veteran Corps of America.