BY RICHARD RHINEHART
Gettysburg, Pennsylvania, April 25, 2019 – America's most inspiring cycling challenge, Face of America, brings together adaptive and able-bodied athletes from across North America and Europe. Non-profit World T.E.A.M.'s May 3-5 cycling challenge begins in Arlington, Virginia's Crystal City, and concludes in the historic Civil War community of Gettysburg, Pennsylvania.
Presented by American Portfolios Financial Services, Inc., the 112-mile ride depends on the adaptive and able-bodied athletes working together to successfully complete the journey. Held annually since 2006, the non-competitive program honors America's adaptive military veterans and their exceptional sacrifices and dedication.
"I am excited to meet all of our new and returning athletes this week for our Face of America Gettysburg cycling challenge," said World T.E.A.M. President and CEO Jon Brideau. We have some exciting changes to our program and will be welcoming a new finish line in Gettysburg at the historical Browns Ranch. Our athletes are traveling from different parts of the world and across the United States to honor and engage with our military heroes. No other cycling program epitomizes an inclusive community quite like Face of America."
Nearly 500 athletes are expected to arrive in Gettysburg shortly after noon on Sunday, May 5. Nearly 75 of these athletes are adaptive military veterans who live with paralysis, loss of limb, blindness, Post Traumatic Stress, Traumatic Brain Injuries and other injuries and conditions. One of the largest non-competitive inclusive cycling programs in the country, Face of America is unique in that all athletes pedal alongside each other on road bicycles, three-wheel recumbent bicycles and hand cycles. Along the route, many local communities turn out to support the riders, showing appreciation to the participating adaptive veterans.
In the Gettysburg region, local residents will turn out to cheer cyclists. The Gettysburg Links community near the Pennsylvania/Maryland state line will host an enthusiastic crowd, and in downtown Gettysburg, visitors and shoppers applaud as the athletes pedal through the city's historic square. The largest celebration will be at the historic Brown's Ranch on the northwestern side of the Gettysburg National Military Park. In 1863, Confederate troops used the privately-owned farm as headquarters for Confederate General A.P. Hill, commander of the 3rd corps for General Robert E. Lee's army. This May, the farm will welcome adaptive military veterans, active duty military, and civilians for a gala ending celebration featuring a live band and an outdoor lunch.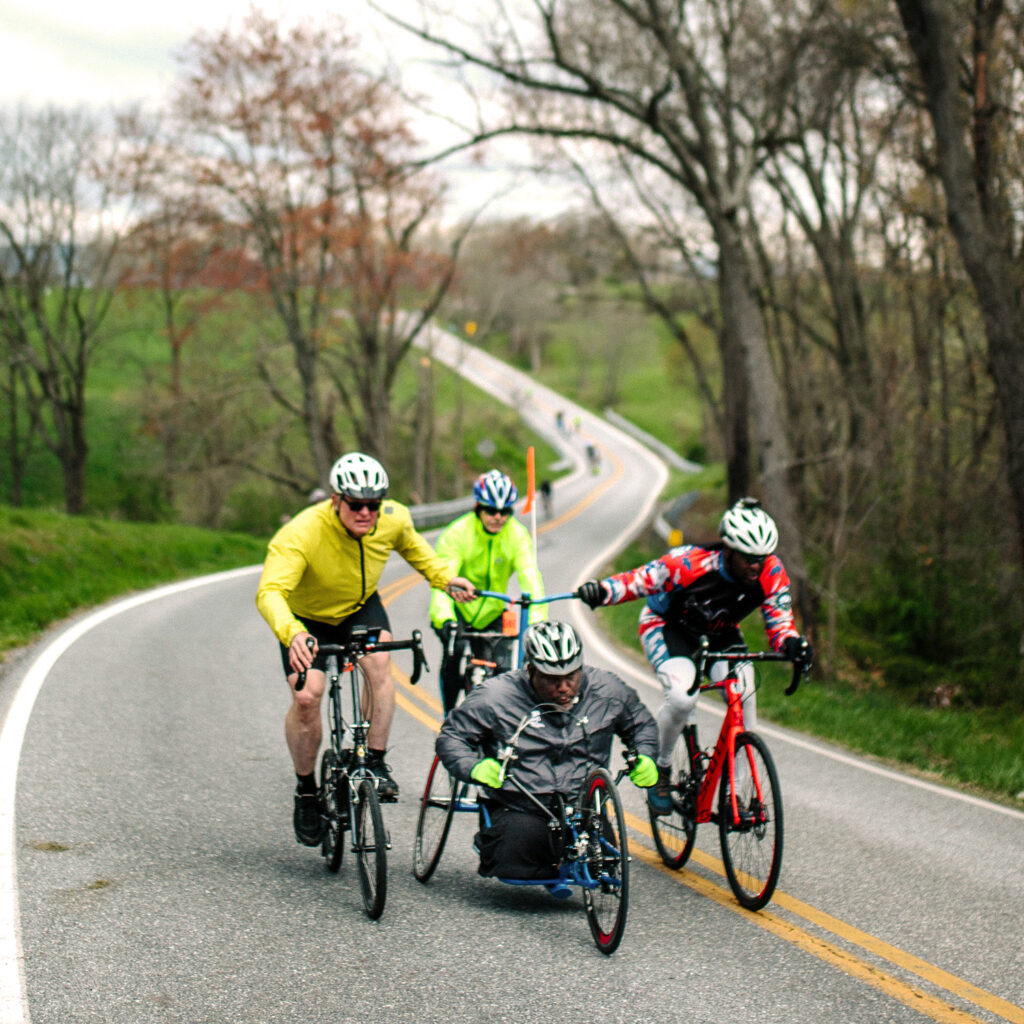 Athletes begin their journey from Arlington early Saturday morning, passing through Joint Base Myer-Henderson Hall and Arlington National Cemetery on their ride north to Frederick, Maryland. Spending the evening in this colonial-era city, athletes resume pedaling early the following morning. On their way north, they will pass through northern Maryland's rolling farmlands.
It is through these many miles of open countryside and small towns and communities that athletes have an extended opportunity to get to know each other. Many of the participating adaptive veterans are riding their first Face of America; for them, the journey is empowering. It is also an invitation to become physically active in outdoor sports as a way to improve their health. For the participating civilians, meeting adaptive athletes helps remove social barriers, leading to friendships that last long after the ride's conclusion.
For the last quarter century, World T.E.A.M. has created and managed numerous inclusive sports programs for adaptive and able-bodied athletes. These include long distance cycling challenges, climbs of high mountains, water sports such as sea kayaking, and team sporting adventures in remote mountains and in suburban parks. It is through these ongoing programs that World T.E.A.M. helps enable and engage adaptive athletes, helping them overcome isolation and feelings of being left out of society. Face of America is one of the organization's most successful continuing programs. It began as a cross-country cycling challenge in 2000, and in 2002 and 2003, a route from New York City to the Pentagon served as the official memorial ride for the victims of the September 11 attacks on America.
World T.E.A.M.'s Face of America is annually supported through generous sponsorship and partnerships. Presented by American Portfolios, additional partners include American Airlines, Brioni, Booz Allen Hamilton, Cannondale, Capital One, Dell EMC, Devens Recycling Center, Flying Dog Brewery, ForeScout, KT Tape, Mt. Airy Bicycle Company, Navy Federal Credit Union, Penske Truck Rental, Pershing LLC, Sila Solutions Group, Spokes, and SUBWAY of the Walter Reed National Military Center.
About American Portfolios
Headquartered in Holbrook, N.Y., American Portfolios Financial Services, Inc. (APFS) is a full-service, independent broker/dealer and member firm of FINRA and SIPC, offering a complete range of financial services, including personal financial and retirement planning, securities trading, mutual funds, access to investment research, long-term care planning, insurance products and tax-free investing. Fee-based asset management is offered through its sister subsidiary, American Portfolios Advisors, Inc., (APA), an SEC Registered Investment Advisor. Both entities, along with technology entity American Portfolios Advisory Solutions, LLC, collectively reside under the legal entity American Portfolios Holdings, Inc. (APH). Full-service securities brokerage is available through a clearing firm relationship with Pershing, LLC, a BNY Mellon firm, the securities of which are held on a fully disclosed basis. The company currently serves 833 independent investment professionals located in 386 branch locations throughout the nation. It was named Broker-Dealer of the Year (Division III) by Investment Advisor magazine in 2015, 2016, 2017 and 2018, as well as one of the top 10 Best Companies to Work for in the state of New York for 2016, 2017 and 2018 by the New York State Society for Human Resources Management (NYS-SHRM) and the Best Companies Group (BCG).