By Richard Rhinehart
Bloomington, Illinois, January 8, 2016 – During the 2010 Sea to Shining Sea cross-country bicycle ride from national non-profit World T.E.A.M. Sports, Wayne Abbott from Normal, Illinois was one of the many volunteers who supported the team of 15 disabled military veterans and their able-bodied colleagues on their 3,687-mile journey from San Francisco to Virginia Beach, Virginia. On December 31, 2015, the 67-year-old retired State Farm Insurance safety analyst passed away at Advocate BroMenn Medical Center in Normal.
At each outdoor sporting event from World T.E.A.M. Sports, the lives of the participating disabled and able-bodied athletes are changed through the exceptional teamwork involved in undertaking and successfully completing sporting challenges. For many of the contributing volunteers, their lives are also changed by helping and working with the participating athletes.
"He told me countless times how the Sea to Shining Sea ride changed his life and gave him a sense of new purpose," recalled friend and State Farm colleague Mike Claver, who directed the 2012 edition of the cross-country ride. "The ride did change his life, but I think it was a two-way street. He changed all our lives, too."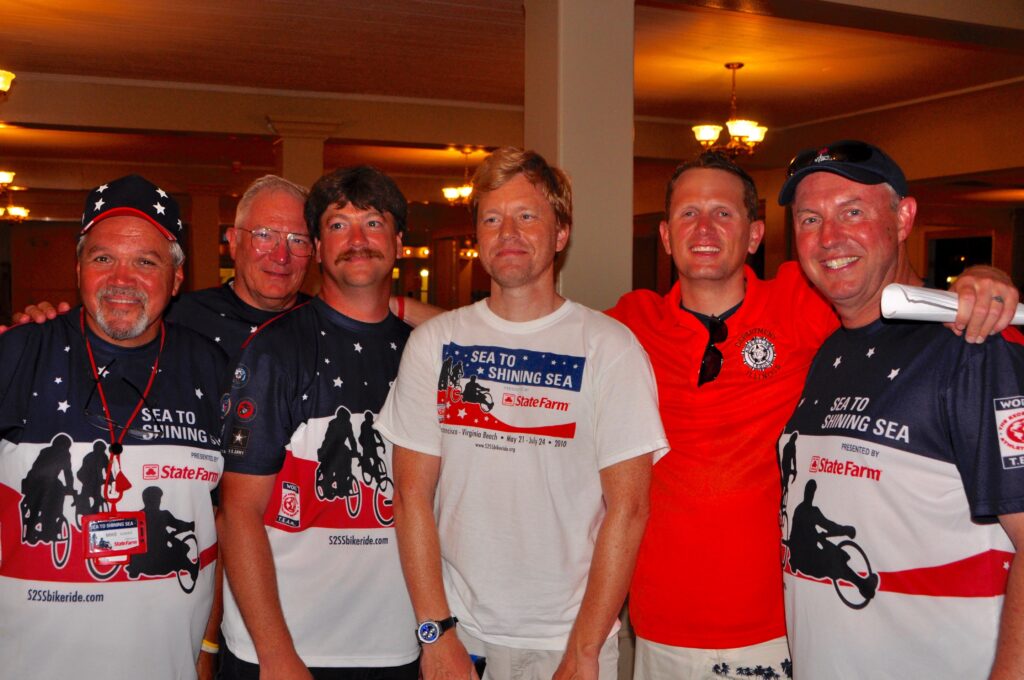 Retired Ambassador Paul Bremer, who rode the 2010 Sea to Shining Sea and later served as CEO and President of World T.E.A.M. Sports for nearly two years, was complimentary of Abbott. "I can say that Wayne was a wonderful, dedicated and always-attentive member of the support crew from State Farm. His great experience in dealing with complicated, and sometimes dangerous, situations perfectly fitted him to what World T.E.A.M. Sports needed on this very demanding two month, 4,000 mile cross country bike ride. He was always there when riders needed him, usually attentive to any special needs they had – and even remembering which flavor of Gatorade they preferred."
Claver, who delivered the eulogy at Abbott's funeral in Bloomington January 8, recalled that Abbott was a key volunteer in the 2010 ride. "His support of the riders was meritorious in so many ways. He probably opened 10,000 bottles of Gatorade and water at his water stops. He pushed hand cycles up hills and mountains, directed traffic, and said a prayer for us every morning and evening. He was a safety expert, and made it a point to keep us all safe. Other than road rash, and a couple of trips for stitches, he kept us out of trouble. You did not ride in his van without a seat belt. You did not plug in an extension card until he inspected it. He would report to hotel managers fire doors not working or left open, or exit light bulbs that were out. He was the enforcer of sufficient rest rules for those of us driving the trucks."
"'Slow Clap Wayne' as he was known to the riders of Sea to Shining Sea has left us, but the impact that he made will live on," said Van Brinson, who rode the 2010 ride and currently serves as World T.E.A.M. Sports' CEO and President. "Wayne was a hard core supporter of our organization, the Sea to Shining Sea event and the individual riders. Every rider remembers topping a hill or rounding a corner and seeing Wayne at the edge of the road clapping until everyone was in and accounted for."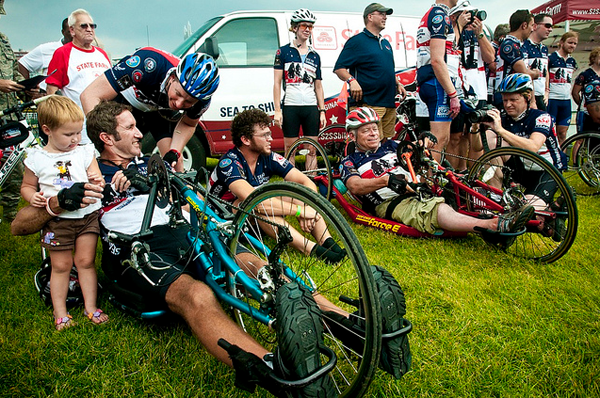 A firefighter for the town of Normal for 20 years and a Bloomington Township volunteer firefighter for another 20 years, Abbott was a graduate from Illinois State University. State Farm employed Abbott for 20 years following his retirement from the Normal Fire Department.
Throughout his life, Abbott maintained a strong sense of what was right or wrong. "During the 2010 bike ride, we traveled to Williamsburg and Yorktown," Claver recalled. "The historic road was a reproduction cobblestone path. It was marked 'No Commercial Vehicles' with a graphic of a large dual axle truck. Keep in mind Wayne was driving a van with lettering on the side. We had a very tight schedule to meet – otherwise, we'd miss the last ferry across the inland waterway and add about 100 miles to the bike ride that day. We waited and waited … but no Wayne. I was finally able to reach him on our radios. Sure enough, Wayne had turned himself into the Park Rangers. We nearly missed the boat that day."
"He will be missed by all of us," said Brinson, who noted Abbott joined the 2012 Sea to Shining Sea for a few days of volunteering. "My heart goes out to the family members left behind, but I would also like to thank each and every one of them for the time you allowed him to spend with us."
"We have lost a great friend of World T.E.A.M. Sports and a wonderful human being," said Ambassador Bremer.
Survived by his wife, Kay, two children, two grandchildren and a brother, Abbott will be long remembered by the athletes and fellow volunteers whose lives he touched through the Sea to Shining Sea.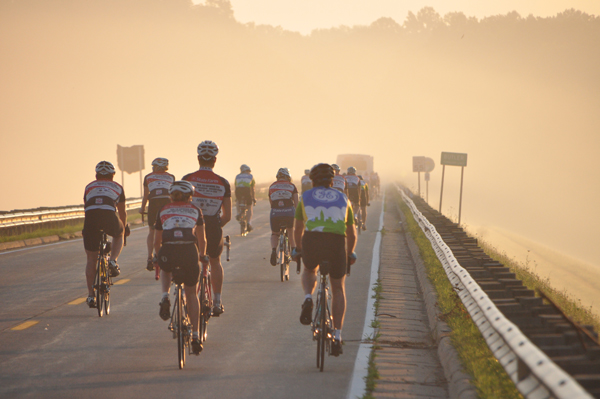 Claver recalled a moment with Abbott during the 2010 cross-country ride that showed how he enlightened the lives of others. "As we approached a fairly large city none of us had been to before, I sent Wayne ahead to set up the lunch stop, a rolling picnic for 50 or so people. As I approached the city, I called him and asked where he had set up. To no one's surprise, he replied, 'I'm on the pad at the fire station.' Well, having never been in that town, I had no clue where that was. So I asked for an address or street name. His reply this time was, 'I don't know. It's right next to the library.'"
In lieu of flowers, memorials may be made to Wesley Methodist Church in Bloomington, Illinois or the Normal Fire Fighters Local 2442 Honor Guard.
About Sea to Shining Sea
The Sea to Shining Sea is a inclusive cross-country bicycle and hand cycle ride bringing together disabled and able-bodied veteran and civilian athletes directed by World T.E.A.M. Sports. The ride crossed the United States from San Francisco to Virginia Beach, Virginia in the summers of 2010 and 2012. Future rides are anticipated.