By Richard Rhinehart
Baltimore, Maryland, May 11, 2016 – An innovative team effort between designers, programmers and writers at Baltimore's Exit 10 and the management team at national non-profit World T.E.A.M. Sports has created a remarkably different annual review website featuring the organization's 2015 events, athletes and business financial information.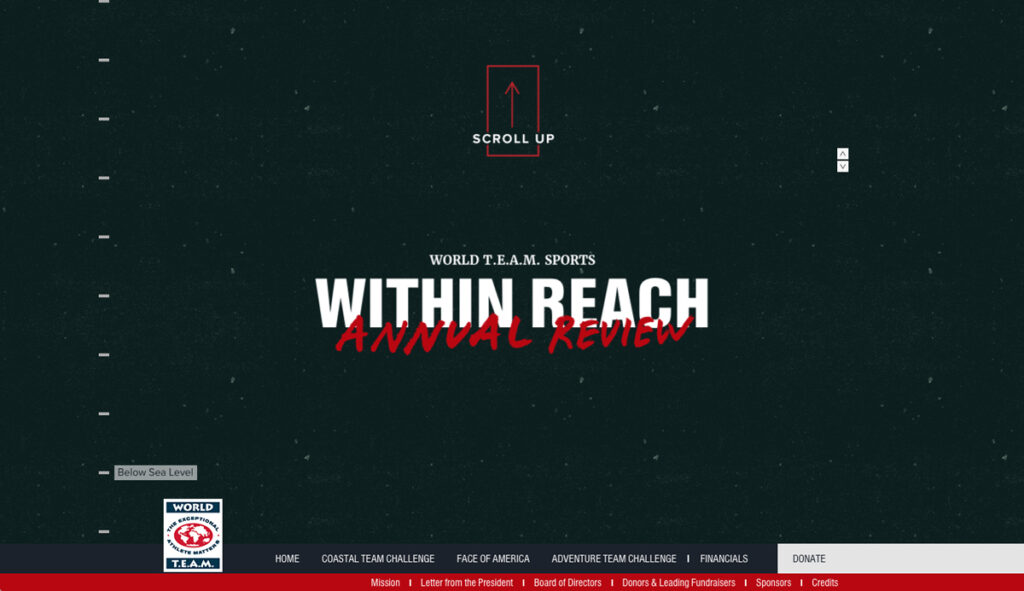 Embracing new technologies and digital photographs and video, the 2015 Annual Review site complements the traditional print edition, distributed to the organization's leading sponsors and donors, as well as to participants of the non-profit's Face of America bicycle and hand cycle ride to Gettysburg.
"Our annual review is one of the most important items on our agenda each year," explained World T.E.A.M. Sports CEO and President Van Brinson. "This document allows us to thank our donors, recognize our sponsors and highlight our participants all in one location. For this year's report we decided, with Exit 10's encouragement, to employ a different format."
After publishing print format annual reviews for 2012, 2013 and 2014, World T.E.A.M. Sports and Exit 10 decided 2015 would benefit from innovation. The market growth of smart phones and tablets in the last few years indicates that much of the American population is comfortable with using these devices for news and information. Creating an interactive website with business information in a pleasing format is the next step in corporate communications to sponsors, partners, supporters and participants.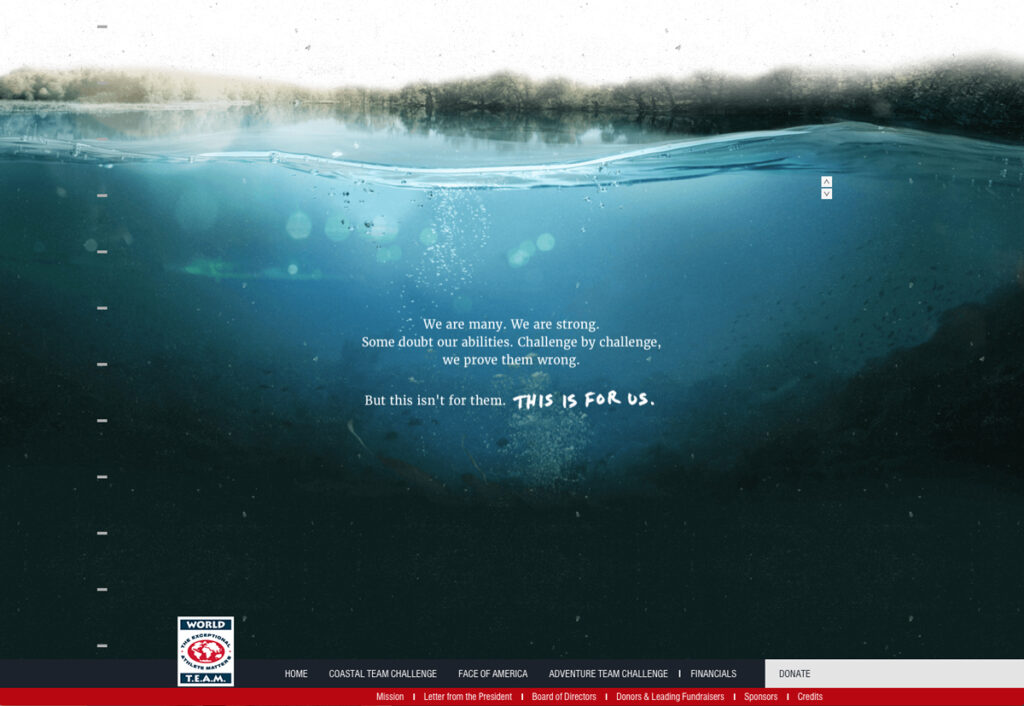 "The amazing athletes who participate in World T.E.A.M. Sports events throughout the year inspired us," said Ali Byro, Exit 10's Director of Client Operations. "Many of them have overcome mental, physical and emotional challenges to accomplish things they previously thought impossible. They are constantly striving to reach the next level."
Beginning telephone conference calls with World T.E.A.M. Sports in October 2015, the Exit 10 team quickly determined the market was ready for a review that is an entertaining and informative experience. Visitors to the site are actively encouraged to learn more about the organization and its exceptional athletes and challenging events.
"We knew we had a lot of photo and video assets that would make for a great interactive experience, so that led us to propose doing a web-based annual review," Byro explained.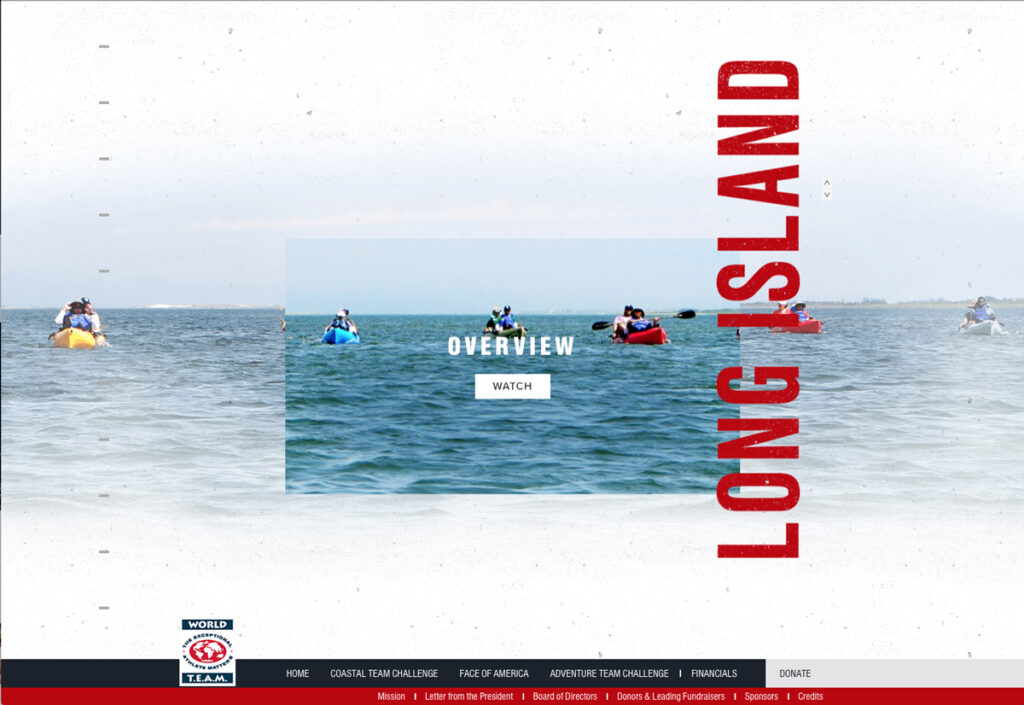 "The concept is called 'Within Reach,'" said Byro. "We used a reverse scroll on the site to simulate that you are climbing up in elevation. It highlights the different locations of the World T.E.A.M. Sports events, which vary in elevation, and symbolizes the athletes' abilities to reach new heights."
Ascending in the site, visitors are taken to World T.E.A.M. Sports' various 2015 events. Beginning with the Coastal Team Challenge along the coast of New York's Long Island, visitors climb to Face of America in Virginia, Maryland and Pennsylvania, and eventually ascend to the high Rocky Mountains of Colorado for the Adventure Team Challenge. Stops along the way include photographs, videos and profiles of participating athletes, volunteers and supporters.
"As with any project we undertake, we like to push ourselves creatively and try new things," said Byro.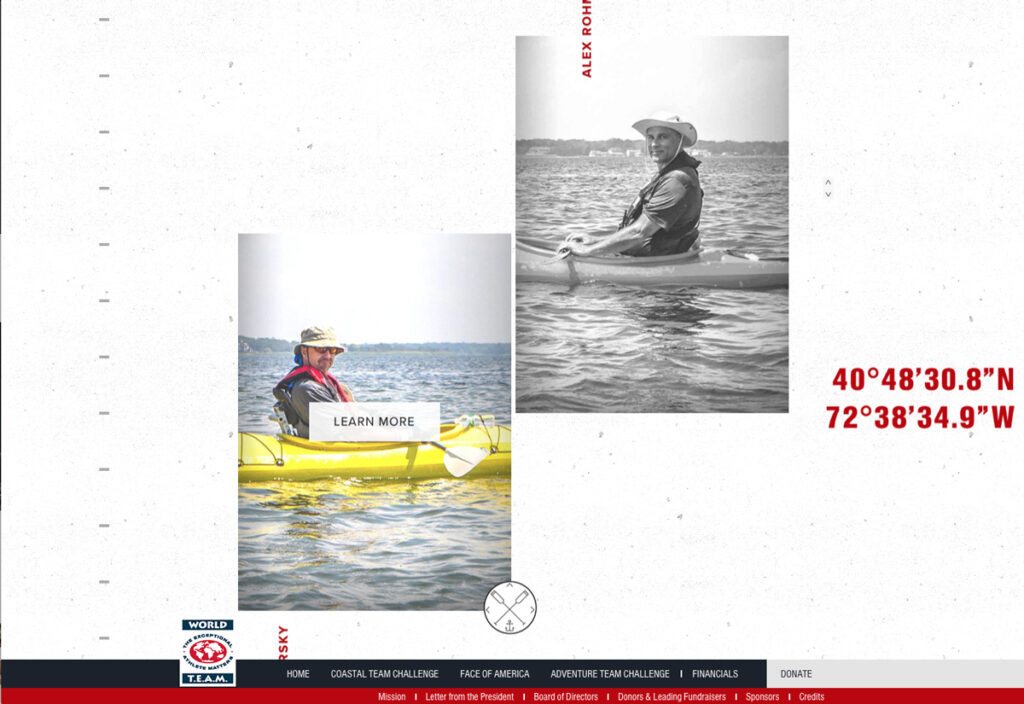 Along with the website, Exit 10 also created a print version of the 2015 review. This 20-page document was distributed to leading sponsors and donors. "The print piece and the website both work off the same concept and were designed concurrently," explained Bryo.
Though the new site is well-suited for the active nature of World T.E.A.M. Sports and its many inclusive sporting events, the interactive design may not be the best option for other Exit 10 clients. "We treat each project as unique," said Byro. "What fits for one client may not work for another."
"This online edition allows us to offer greater content to the reader while still keeping the information in a manageable format," said Brinson. "We at World T.E.A.M. Sports hope that you enjoy learning more about our organization."
Thanks to the Exit 10 team for creating World T.E.A.M. Sports' 2015 Annual Review print and digital editions: Digital: Kevin Pedini, Digital Director; Wade Shepardson, Junior Developer; Matt Manion, Junior Developer. Creative: Scott Sugiuchi, Managing Partner/Design Director; Meg Dillon, Associate Creative Director; Michelle Ghiotti, Senior Designer. Account Service: Ali Byro, Director of Client Operations.