By Richard Rhinehart
Bath, Maine, October 14, 2016 – Participation in challenging sports and exercise may not have changed Rory McCarthy's life, but actively seeking physical activities through hand cycling and other outdoor sports has greatly improved the quality of his life. As a continuing World T.E.A.M. Sports athlete, McCarthy has gained a lifetime of exceptional memories, as well as helped others find meaning to their lives.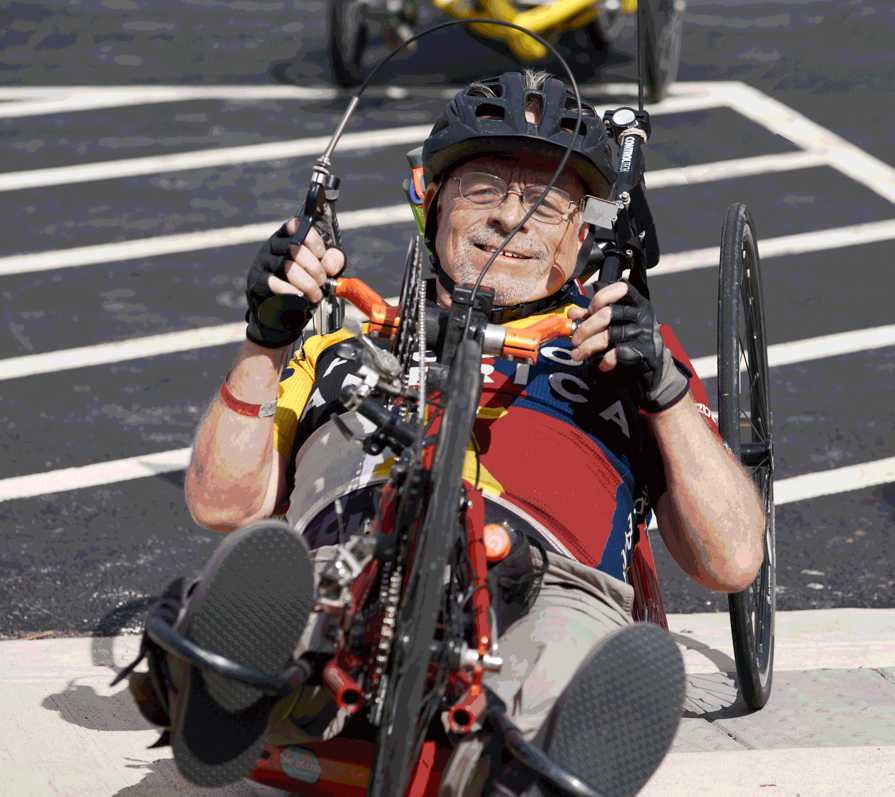 Living outside southeastern Maine's shipbuilding community of Bath, the electrical designer and engineer reports he underwent more than two dozen surgeries when he was young to help him walk. "I have experienced orthopedic and neuromuscular issues with my legs for most of my life," explained the 62-year-old. "Most of my life, I used crutches, and now a wheelchair for my personal mobility."
Married with a son in high school, McCarthy has a special affinity for hand cycling. He has actively participated in this sport for more than 35 years. "It has provided me with a lot of joy, exercise, opportunity, confidence, and through adaptive sports organizations like World T.E.A.M. Sports, many adventures," McCarthy said. "My first hand cycle was designed and built by a friend with a small business, just after he completed his engineering program at MIT."
Answering a mailed invitation from World T.E.A.M. Sports in the spring of 1994 to join a stage of the organization's 1995 AXA World Ride, McCarthy was surprised to be invited by founder and Chairman James Benson to be a core rider. Meeting in the Delegates Dining Room at the United Nations in New York to announce the ride and introduce the core team, McCarthy found the prospect of traveling more than 13,200 miles in 247 days by hand cycle to be exciting, but also intimidating.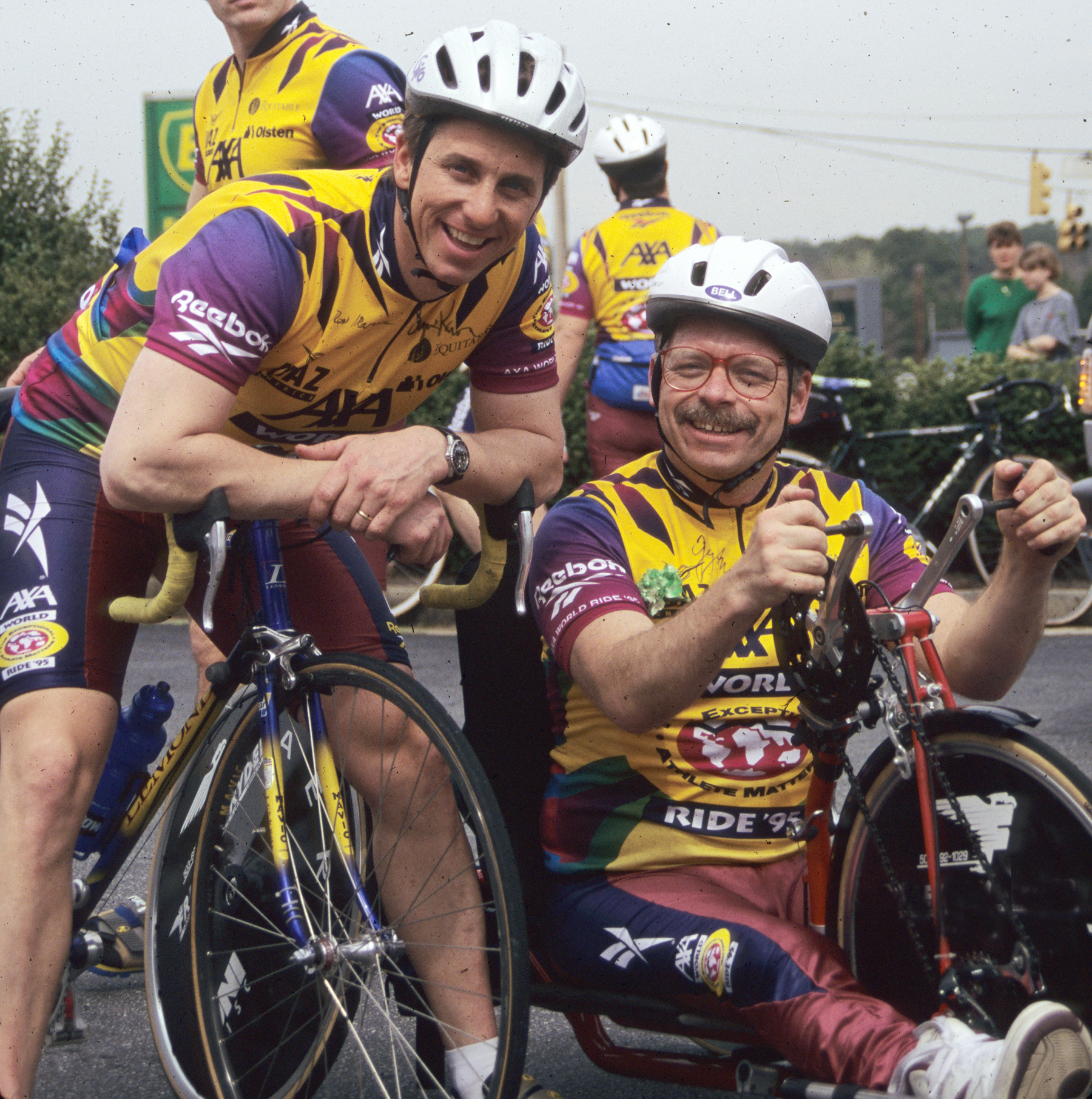 "I remember thinking about seeing parts of the world I would never likely see, and the cultures and people I otherwise never experience," recalled McCarthy. "Above all, I believe that people, who were considered 'disabled', could do anything that an able bodied athlete could do, just differently and with a team."
Accepting the invitation, McCarthy joined other core and stage riders such as American Tour de France winner Greg LeMond. Starting in Atlanta on St. Patrick's Day 1995, the AXA World Ride successfully circumnavigated the world, finishing their journey on November 18. "I am forever grateful to World T.E.A.M. Sports and to Jim Benson for offering me the opportunity," said McCarthy.
Following the ride's finish, McCarthy participated in numerous World T.E.A.M. Sports events, including the 1996 Paralympic Torch Relay to Atlanta, which he helped photograph. In January 1998, McCarthy signed on as a coach and staff member for the organization's Vietnam Challenge. The 1,200 mile, 16 day bicycle and hand cycle ride from Hanoi to Ho Chi Minh City brought together former American and Vietnam veterans in one of the first major sporting events between the two former adversaries.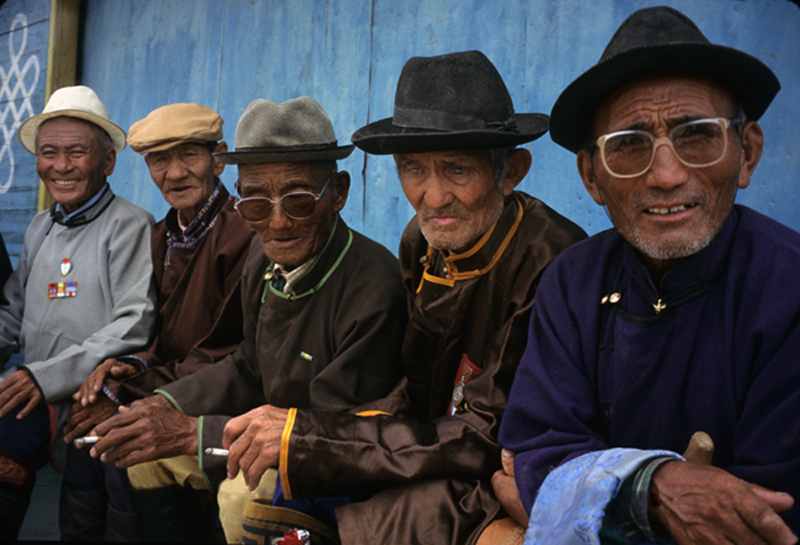 "It was a tough journey, stirring up unresolved emotions for those who fought in the war," said McCarthy of the experience. "But one can scarcely imagine a more healing event than teammates from countries historically divided by war, working together on a 16 day journey through a landscape full of poignant beauty and in places, incredibly painful memories."
McCarthy was invited to join World T.E.A.M. Sports' inaugural Face of America in 2000. He's since ridden in seven additional Face of America rides, including this year's ride in April to Gettysburg from Arlington, Virginia.
The first Face of America saw two teams of riders travel simultaneously from each coast, meeting together under the Gateway Arch in St. Louis, Missouri. "This event celebrated the diversity that now exists in the U.S.A.," said McCarthy, who rode west from Boston as a member of the eastern team.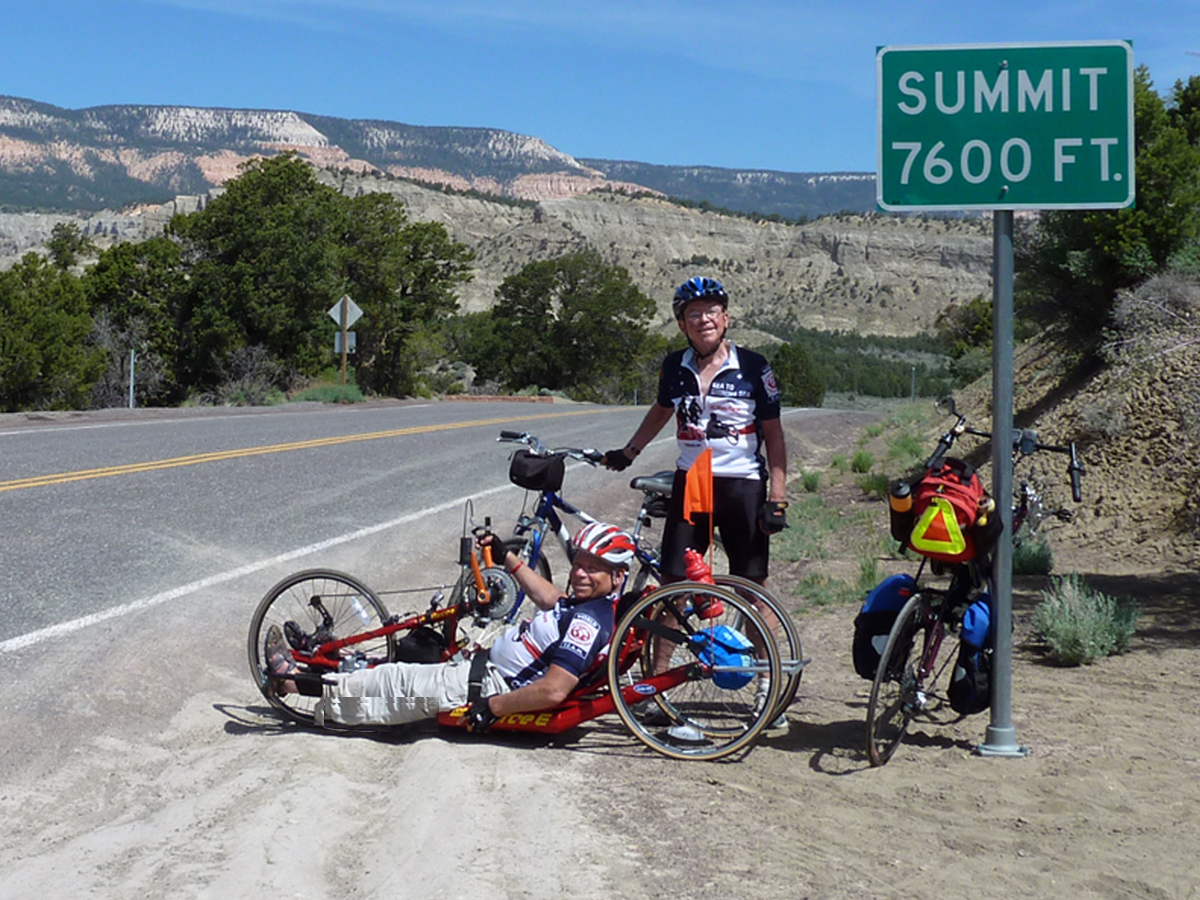 McCarthy had his opportunity in May 2010 to ride the full North American continent for a second time with World T.E.A.M. Sports' inaugural Sea to Shining Sea. Riding east from San Francisco with 17 adaptive and able-bodied military veterans, McCarthy pedaled his hand cycle to Virginia Beach, Virginia, his longest ride since the 1995 AXA World Ride.
Meeting and riding with first-time adaptive athletes in events like Face of America, McCarthy has a strong message. "I enthusiastically recommend they participate in sports and recreational activities," he said. "Someone with a disability, whether from an injury or accident or something someone has lived with for their whole life – these activities can improve your quality of life; can help with depression or sadness; and make you just feel generally better about life and about your own life experiences."
"These activities, with an organization like World T.E.A.M. Sports, can save your life and provide you a better outlook on life and your relationships with family and friends. In World T.E.A.M. Sports adventures, you can make lifelong friendships."
Read the full interview with Rory McCarthy.