By Melissa Grappone
Bayshore, New York, March 21, 2017: Adaptive Army veteran, Donna Zephrine, is no stranger to challenges. Having participated in several World T.E.A.M. Sports events over the last few years — the Face of America (FOA) in 2015 and 2016; the 2015 Face of America Liberty from West Point Academy to the Freedom Tower in New York City — she has found friendships, gained support and derived therapeutic benefit from the physical demands of these adaptive sporting events. She will be joining Team American Portfolios again to take part in the April 28-30 FOA bike ride to Gettysburg.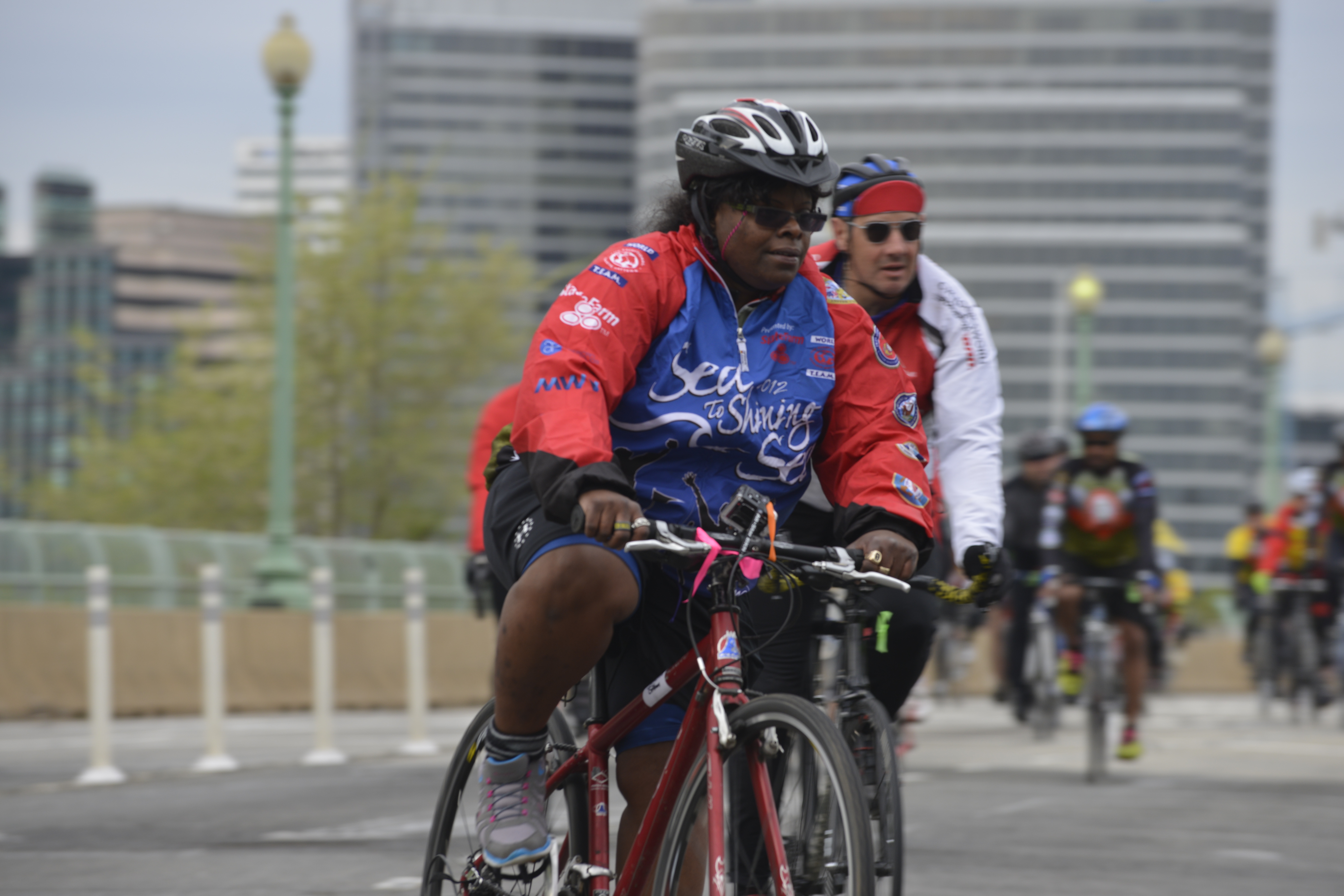 Zephrine served two campaigns in the Iraqi war: Operation Enduring Freedom from March to December 2003 and Operation Iraqi Freedom from October 2004 to October 2005. Zephrine initially enlisted in the Army Reserves from September 1996 to October 2002. From there she went into active service with the 416th Transportation Company, 260th Quartermaster Battalion at Hunter Army Airfield as a Light Vehicle Mechanic. Six months after changing her status, Zephrine was deployed to Iraq.
Having lived the better part of her youth and now her adult life overcoming obstacles that would have many in her shoes setting their sights to something on a level of "realistically obtainable," Zephrine raised the bar higher for herself. Her parents (Trinidadian immigrants in the late 1960s) made education a top priority for both Zephrine and her younger sister, laying the foundation for them to fully utilize their God-given capabilities. When Zephrine was diagnosed with ADHD and Auditory Language Processing Disorder (APD) as an adolescent, she embraced the challenges that lay before her to stay focused and seize new and creative ways of learning.
Despite her disability and the difficulties processing information that for most is second nature, she excelled with honors and commendations. The rigors of an accomplished and supportive primary education prepared Zephrine well for future growth and learning; the question was, were higher educational institutions prepared to take Zephrine to the next level?
Through sheer willfulness and tenacity, Zephrine completed her course work, earning an Associates degree from Farmingdale State College in May 1997, followed by a bachelor's in marketing at SUNY Old Westbury in May 2001. After an arduous journey making it through her secondary education, the regiment and focus she recalls gaining during her ROTC training in high school precipitated her decision to join the armed services with the belief it would add to her personal growth and lead to a productive life of giving back.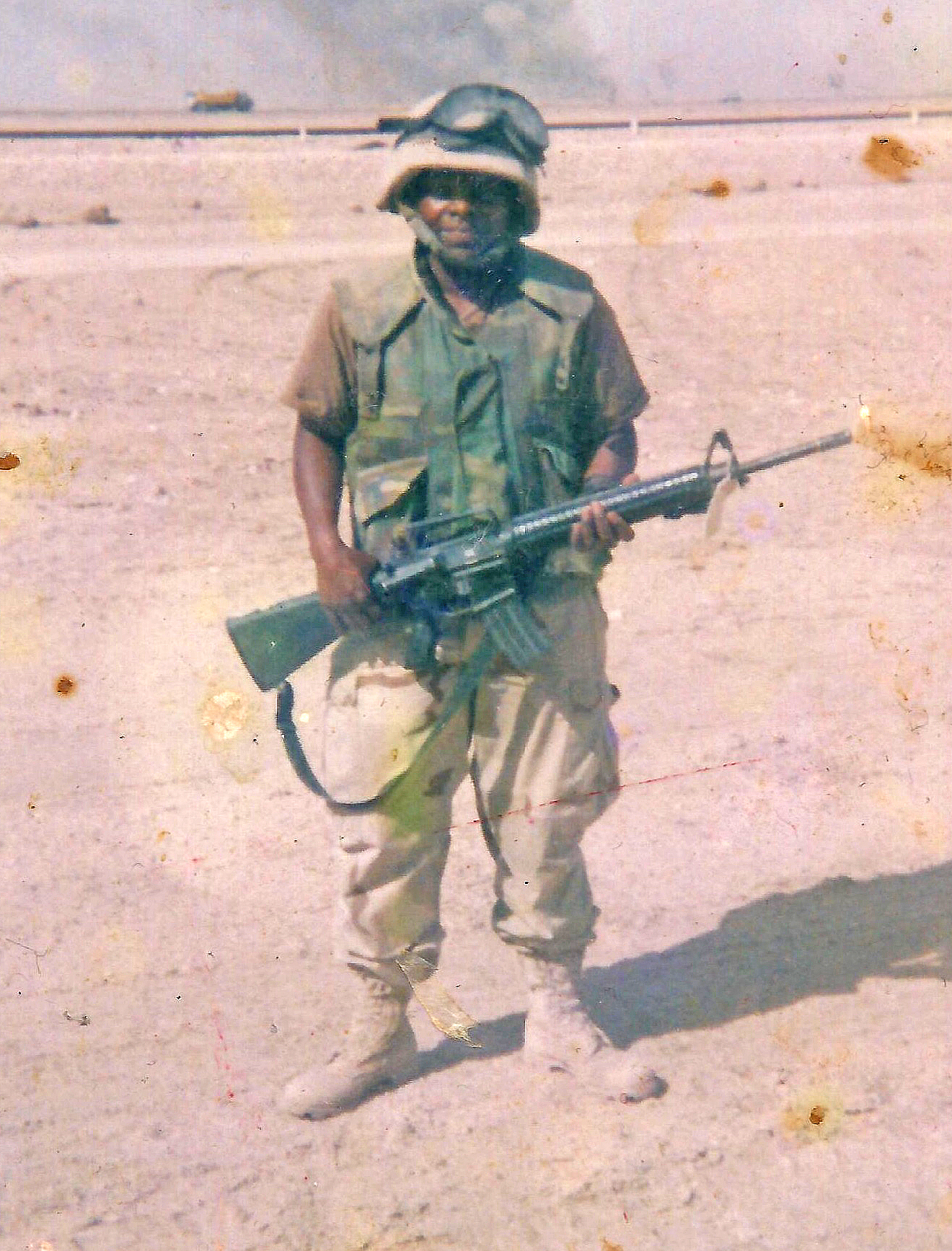 In September 2001, four months after graduating from college, the unprecedented terrorist attacks on September 11 unfolded, rattling Americans to the core. Zephrine dutifully continued her military training in the Reserves to pursue a full-time career in the armed services with a reassignment for active duty. Whatever rumblings were circulating among her peers regarding the magnitude of the war ahead, according to Zephrine, the widely-held sentiment and expectation of what they were in store for was highly underestimated.
"My first deployment was the start of the war in Iraq and it was the hardest. A lot of us thought the war would be something like Desert Storm, where it wouldn't last that long; but, it didn't turn out that way. "
An understatement, by any account, what Zephrine and her squadron would soon experience and endure – the austere living conditions in the first three months; a constant barrage of incoming artillery with RPGs and canyons sounding off throughout the night; the loss of comrades close to her and the paralyzing fear of not making it home — were the harsh realities of their day-to-day existence.
"It was rough for the first three months in Baghdad until military contractor, Halliburton, came in to build and establish better living conditions. That was in June or July, which was right around the time when my squadron leader got killed."
A bracelet cuffing Zephrine's wrist with the inscription, "Sgt. Nathaniel Hart, Jr., Valdosta, Ga, Never be Forgotten," is a constant reminder of the mentor and friend who supported her during those difficult and terrifying months. He was the 38th soldier from the third infantry division out of Ft. Stewart – an outfit suffering the largest casualties of any other unit – to die during the War.
Zephrine's company had to move several times due to heavy combat surrounding their military post. A move northwest from Baghdad to Al-Karmah, turned into an even heavier battle zone, resulting in the loss of another comrade in her squad, Army Spc. Ryan C. Carlock. His memory, like Lt. Hart, is kept close to her on her wrist. Haunted by the painful losses their loved ones were undoubtedly feeling, Zephrine reached out to the Hart and Carlock families, offering condolences and sharing the Chaplain's invocations from the Fallen Soldiers Battle Cross ceremonies held at base camp. When she returned to the United States after nine months from her first deployment, Zephrine paid a visit to Sgt. Hart's wife and two children at their home in Valdosta, Georgia.
Her return home was a welcome reprieve, but would last only nine months before her next deployment. For Zephrine and her squad, it was met with mixed feelings – the anxiety they felt at the prospect of returning to a hostile and life-threatening environment, yet the strong sense of duty they had to continue serving their country. By now, the insurgents' deceptive tactics had gained ground for them. While the 4th infantry was relieving Zephrine's unit, her squadron spent their time at home repairing and reinforcing their transport army vehicles battered from their first deployment, and retrofitting them as armored vehicles. Coming into what was now called Operation Iraqi Freedom would prove to be a brutal and endless year of escalated fighting, for which Zephrine was smack in the middle of in her supporting role. With the growing sophistication of lethal explosives from the insurgents, by September 2004 the death toll for U.S. soldiers in Iraq reached 1,000.
"Midway through my first deployment, the insurgents started getting smarter. The water bottles we were handing out to the civilians were being used to make IEDs. Then [as time went on] they started making daisy chain IEDs."
Stationed in northern Iraq at Al Asad Airbase during her second deployment, another hot spot for heavy casualties, tighter restrictions and heightened security patrols around the perimeter of the base camp were enforced. All stationed infantry during their watches were instructed to shoot if anyone came too close. Zephrine would face difficult challenges for the duration of her second tour of duty. The relentless bombings for days on end and the forceful impact of an RPG targeted for the truck she was traveling in during a transport mission had taken its toll on her.
With an honorable release from the armed services in January 2006 and a plethora of well-deserved service medals to show for her bravery and commitment, the return to civilian life after a long, war-fatigued tour of duty came with its own challenges. Eager to move forward and put the last 3-1/2 years behind her, Zephrine enrolled in a graduate course towards a master's in special education – something she had been pursuing prior to going into active service and her inevitable deployment overseas. She felt hopeful about her future with better and kinder days ahead. Instead, she would step into a mine field of emotional and trying setbacks. A personal relationship between her deployments, which led to marriage, turned out to be short-lived. Compounded by the loss of a baby six months into her pregnancy, exacerbated by a mild, but chronic, case of Post-Traumatic Stress, Zephrine fell into a deep depression.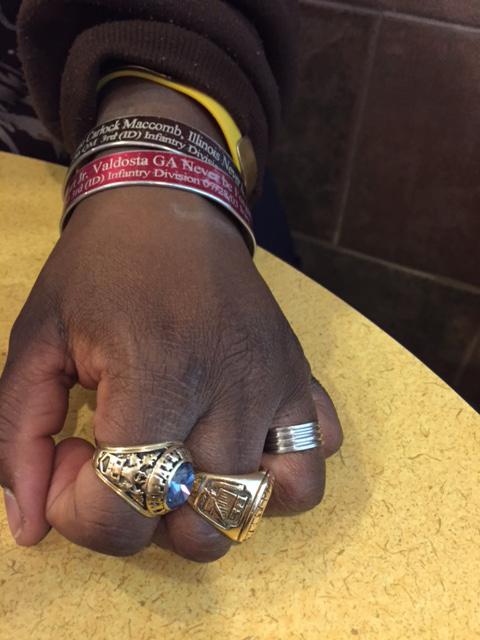 It would take three years before Zephrine could see her way back to a path of purpose and productivity. As she so resourcefully did before, Zephrine tapped into a network of support services for veterans. She met others like herself through the VA hospital and the local Wounded Warriors organization and Kayak for the Cause through the War Writers Campaign and tried her hand in adaptive cycling, water sports, hockey, and even sky diving.
"It's been very therapeutic getting exercise, meeting other veterans and professionals. I learned about WTS through [seven-year FOA participant] George Taborsky at a cycling event through the VA in Central Park."
Today Zephrine has created an active life for herself, working as an aid for the New York State Office of Mental Health at Pilgrim Psychiatric Hospital, a State Operated Community Residence (SOCR). Balancing a heavy schedule, she works five nights each week in the outpatient community homes, while commuting into the city once a week for classes at Columbia University as she works towards her master's in social work. Considering that a field more suited to her than teaching, with the support of an in-class transcriber who takes notes for her and the completion of required field placement work at an adult day center three days a week, Zephrine is scheduled to complete her graduate coursework this spring. And if that weren't enough, her involvement in various veterans' writing workshops make her days seem endless, rolling from one activity into the next.
"After I graduate in May, [eventually] I'd like to have my own practice [as a social worker], giving back and helping veterans."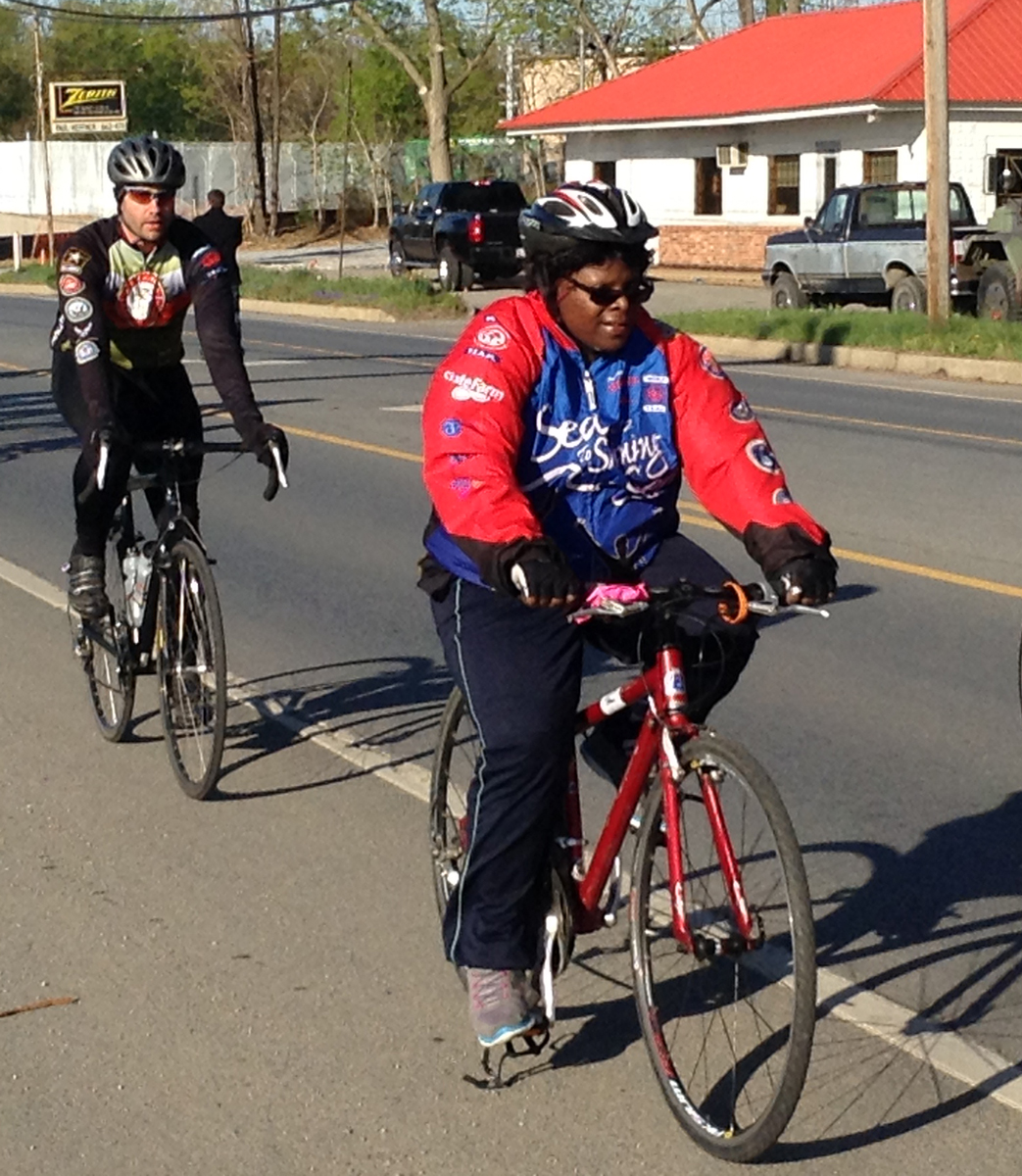 It would appear Zephrine's personal success has been motivated by the teachings, support and life examples of others. A seeker of inspiration at every turn, she is thankful for the blessings of those influences in her life. It began with her parents who came to America to provide more opportunities and a better education for their children; then, there was the primary school superintendent who recognized Zephrine's hard work despite the learning difficulties she had. In later years, it would be the squadron leader who sacrificed his life while instilling strength and courage in others during the war in Iraq. Finally, it was New York Governor David Paterson who wrote Zephrine back, responding emphatically to the challenges of being disabled and providing assurances from firsthand experience with his blindness, that anything was possible with "hard work, determination and a positive attitude."
Most of all, for Zephrine, it is an inner faith, strength and power she believes is beyond her to accept the challenges that have — and will — come. This motivates Zephrine to give it all she's got and herself be an inspiration to others along the way.
World T.E.A.M. Sports' 2017 Face of America is presented by Capital One Bank and supported through sponsorship and partnerships from several leading companies including American Portfolios Financial Services, Benson Botsford LLC, Booz Allen Hamilton, Brioni, CYCLEBAR Columbia Pike, Dell EMC, Devens Recycling, Dunkin' Donuts, FreshBikes, ForeScout, KT Tape, Penske Truck Rental, Pershing, Rescue 22, Sila, SUBWAY of the Walter Reed National Military Center, Three Wire Systems, Tom's Creek United Methodist Church, TORRE Consulting Services, Vedder Price and Veteran Corps of America.
AUTHOR'S NOTE: Selected writings from Donna Zephrine about her experiences during and resulting from her tour of duty in Iraq were published through these blogs and writing workshops at: blogground.com, intersections.org, warwriterscampaign.org, voicesfromwar.org, and veteranswritingworkhop.org.